Rokenbok Discount Starter Set
For the growing engineer.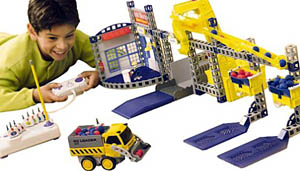 The Rok Works Start Set combines puzzle solving, model building, remote-control vehicle operation, and gameplay into a complete and completely unique experience. The first step is to build your construction site with the snap-together modular pieces provided. This is an absorbing, fun activity in itself, since the pieces allow for such open-ended, creative design: be as straightforward or Rube Goldbergesque as you like. Then it's time to rev up your construction machine and guide it around the site with the handy, video-game style controller. You can navigate under bridges, pick up loads of colored balls, and drop them off at the conveyor belt that will take them up to the network of tunnels (which youíve built yourself) that will in turn carry them wherever you like. Unlike most radio-controlled vehicles which, once you get past the novelty factor, there isn't all that much for them to do, here there's plenty of action and adventure, limited only by kidsí imaginations. Grab your hard-hat and go! There's a lot to be done in this action packed Radio Controlled Construction site. As the boss, it's your job to scoop and haul the precious Rokenbok cargo. With the help of your wireless Radio Controlled Loader vehicle, the towering Motorized Conveyor, and a wild chute system with dumping bin boxes, running a construction site has never been so easy (or so much fun.)
The Rokenbok building system is a unique and interactive educational toy set that combines elements of construction, engineering, and remote control. It enables children to create intricate structures and layouts, into which they can integrate Rokenbok R/C vehicles and other moving parts. This hands-on building experience not only fosters creativity but also helps to develop spatial reasoning and problem-solving skills. The system is modular, allowing for endless combinations and layouts, and is often used in educational settings to teach principles of STEM (Science, Technology, Engineering, and Mathematics). By integrating construction with electronics and mechanics, Rokenbok offers a multi-faceted educational experience that captivates kids and encourages a love for learning.