Rokenbok Start Set
Great way to start with Rokenbock.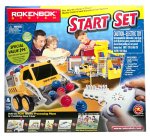 Grab your hard-hat and go. There's a lot to be done in this action packed Radio Controlled Construction site. As the boss, it's your job to scoop and haul the precious Rokenbock start set cargo. With the help of your wireless Radio Controlled Loader vehicle, the towering Motorized Conveyor, and a wild chute system with dumping bin boxes, running a construction site has never been so easy (or so much fun!)
Conveyor belts play a crucial role in the construction industry, simplifying the transportation of bulk materials like gravel, soil, and other debris. They are especially useful in settings where labor would otherwise be intensive, and where using traditional vehicles might be inefficient due to space or environmental constraints. Conveyor belts come in various forms, including portable systems that can be mounted on trucks or trailers, and larger, more permanent systems used in quarries or waste management facilities. They are particularly valuable for tasks like moving material into hard-to-reach areas, such as the upper floors of buildings under construction or across challenging terrains. Conveyor belts can also be integrated into automated systems, allowing for more efficient material handling with less manual intervention. Overall, they are an indispensable tool in modern construction, contributing to both efficiency and safety.