Roller Coaster Tycoon 3
3-D graphics give players complete control of views around the park and a new Coaster Cam allows players to ride the roller coasters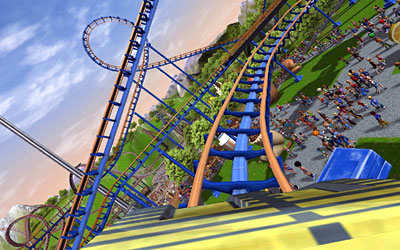 In March 2004, Atari announced that a thrilling new sequel to the stomach-turning excitement of the Roller Coaster Tycoon franchise would make its way to store shelves later that year. Roller Coaster Tycoon 3 will take the series to new heights with brand new features including 3-D graphics, giving players complete control of views around the park, and a front seat to the action with a new Coaster Cam feature that allows players to ride the roller coasters. Roller Coaster Tycoon 3 is being developed by Frontier Developments of Cambridge, England, in conjunction with Chris Sawyer, the creator and sole developer of the Roller Coaster Tycoon franchise.
"We are very excited to be working with Frontier Developments and Chris Sawyer on this completely new version of the blockbuster Roller Coaster Tycoon franchise," said Wim Stocks, Executive Vice President, Sales and Marketing for Atari, Inc. "Roller Coaster Tycoon 3 demonstrates Atari's ability to take an existing franchise to new heights, creating an entirely fresh and exciting entertainment experience for fans and new players alike."
Roller Coaster Tycoon 3 will also feature new gameplay elements that fans have been asking for - including diversity of guests, added group behavior and improved guest AI - and many other new features which build upon the fun and addictive nature of the original game.
The Roller Coaster Tycoon series is the #1 Tycoon series, having sold more than seven million units life-to-date worldwide. The original Roller Coaster Tycoon game debuted in 1999 and held onto a spot on the PC top 10 best-seller list for 150 weeks.
RollerCoaster Tycoon is a series of video games that simulate amusement park management. First released in 1999, the game allows players to design, build, and manage their own virtual theme parks, complete with roller coasters, rides, and various amenities. Developed originally by Chris Sawyer and published by Hasbro Interactive, the game was a commercial and critical success, giving rise to several sequels and spin-offs. The gameplay focuses not just on the creative aspect of building a park, but also on the business management side, requiring players to balance guest satisfaction with the park's financial health. Over the years, the franchise has evolved, incorporating 3D graphics and more complex mechanics, but the core appeal remains the same: the joy of creating a personalized amusement park and the challenge of making it successful. It has a broad fan base, ranging from casual players to serious enthusiasts who delve into the minutiae of coaster design and park management.