Rumble Robots Invasion
Following the enormous retail success in 2001 of Rumble Robots, a popular line of remote control robot toys operated by infared technology, Trendmasters introduced the next generation, Rumble Robots Invasion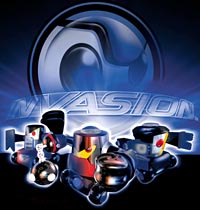 With Rumble Robots Invasion, kids can play with an entire team of robot knights and soldiers using a single infared remote, lead by the Invasion King. Now children can operate legions of toys and command armies, devise tactics and strategy and engage their minds along with their imagination.
"The unique play pattern of combining strategy with battle and competition is an important interactive tool," says DeWayne Booker, Senior Vice President of Marketing and Licensing of Trendmasters. "This rich game play appeals to children on many levels, providing long-lived play patterns that challenge as well as entertain."
Each Invasion King commands armies of Invasion Knights and Soldiers. With a swipe of the Power Card, the Invasion King energizes to beam commands using its infared technology. The invisible laser beams transmit commands to allies and can also disable rival knights and kings. The King is powered and ready for an intense infared controlled battle, and the Invasion Soldiers are poised to battle, stand and protect their Invasion King with their own arsenal of laser beams. The exciting play pattern of Rumble Robot Invasion easily accommodates one-on-one or team play.
Electronic Power Cards add offensive and defensive abilities when swiped through the King robot. The more cards collected, the greater the powers possessed by the Invasion Kings and Knights.
Hosting the official launch of Rumble Robots Invasion is Toys "R" Us Times Square, "The Center of the Toy Universe", (on Saturday, March 23rd from 1:00 P.M. until 3:00 P.M.). Toys "R" Us Times Square is located at Broadway & 44th Street in Manhattan, New York.
Following this official launch of Rumble Robots Invasion, a broad array of accessories, including Battle Armor, Weapons Pack and Traps, will be introduced. Boys ages 6 and up will delight in Rumble Robot Invasion, as well as the accessories that will turn any area into an epic Rumble battlefield.
The original line, Rumble Robots, launched nationally May 2001. Approximately 2 million units sold at retail; retail sales were approximately $100 million. Rumble Robots ranked as the number 2 toy introduced in 2001, and number 6 in the overall 2001 top toy list according to NPDFunworld (SM), the toy retail tracking unit of the NPD Group. Major national retailers carried Rumble Robots and will carry Rumble Robots Invasion (beginning Spring 2002).
Get ready to rumble! Rumble Robots Invasion are like BattleBots meet e-pets meet Pokemon. Rumble Robots is a collectible card game that combines card play with a battling electronic robot counterpart. First, play the card game to win cards from your opponent, then swipe the won cards through your robot to give him more power. Robots battle in an attempt to kill each other's power supply, by either tipping them over, hitting their antenna-like terminate switch, or sapping power via laser attack. The winning bot gets to collect "treasure points"--registering their victories in memory. Just out of the box, the robot is sluggish, none too nimble, and he doesn't have "punch power" or "laser power." But that is easily remedied because he comes with five game cards, some of which can be used to give him more speed, agility, and battle power. Rumble Bot can travel forward or backwards, deliver a battery of punches, shout out various cries of battle, and shoot power-sapping "laser beams"--all via remote control. Of course if you want to battle, you'll have to get another bot, and to play a really good game, you'll have to get extra cards as well. Every bot comes with a poster depicting all the available power cards. By Trandmasters.