Salon Surprise Barbie
Barbie doll with hair dryer.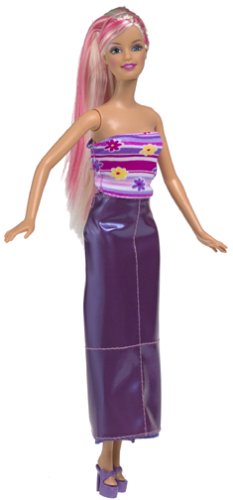 It's no surprise that Barbie has always had impeccable taste in hair and clothing, but Salon Surprise Barbie melds the two interests. This beauty set allows for the hip girl to let her hair down--and have it colored pink. Put her in the chair, load the hair dryer with ice, plug it in, flip the switch, and style. The cold air from the dryer highlights streaks of hot pink in Barbie's otherwise golden locks. To reverse the effect, simply blow warm air on her head. But the surprises don't stop there. Both her skirt and halter-top are reversible, allowing four different outfit combinations: she can go for casual chic in purple and flowers or be totally glam in her signature pink. Other accessories include a pink brush and comb, four barrettes, a purple mirror and brush, and a curly blond wig attachment for a fuller head of hair.
A salon playset provides endless hours of imaginative play, allowing children to step into the roles of hairstylists, makeup artists, or spa technicians. These sets often come equipped with a variety of tools and accessories like toy scissors, brushes, hair dryers, and even pretend makeup, offering a rich sensory and role-playing experience. Not only do children get to work on their fine motor skills as they pretend to snip, style, and apply makeup, but they also engage in social play, learning to take turns, share tools, and even engage in customer service. Whether solo or with friends, a salon playset offers a hands-on, interactive way to explore creativity and self-expression.