School Cool Barbie
School Cool Barbie is ready for class.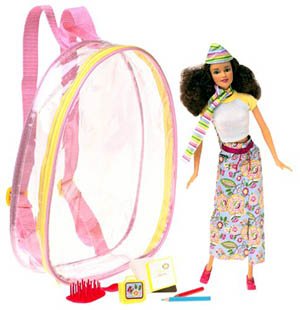 Teresa is ready to hit the books, pass notes to fellow classmates, and primp at lunchtime in this School Cool playset. She's decked out in a blue skirt with a bright floral pattern, a white-and-yellow jersey top, a striped hat and matching scarf, and fashionably clunky pink shoes. Her school essentials include a yellow lunchbox, blue and red pencils that actually write on the miniature pad of paper, and a large pink brush for keeping her long curly hair in order. Clever packaging serves a dual purpose: the cardboard backing that holds everything in place acts as Teresa's classroom, complete with a fold-down desk and chair; and when class is over the entire playset can be zipped up and toted off in the clear plastic backpack with adjustable pink shoulder straps. Her friends Christie and Barbie (sold separately) make the afterschool study group complete.
A playset centered around getting ready to go back to school taps into the excitement and anticipation that many children feel about the new school year. It offers kids the opportunity to role-play scenarios they might encounter, like packing a backpack, choosing an outfit, or even "riding" a toy school bus. This kind of imaginative play is not only fun but also beneficial for children's social and emotional development. It allows them to explore their feelings about school in a safe and controlled environment. The playset can include various elements like miniature school supplies, lockers, a classroom setting, and even teacher and student figures. By engaging with these elements, children can also practice important skills like organization, time management, and social interaction, all while having fun and letting their imaginations soar.