Sega Sports NHL 2K3 Playstation 2
The Most Accurate Hockey Simulation Delivers Exclusive Features, ESPN Telecast-Style Presentation and Lifelike Realism Never Before Seen in Hockey Video Games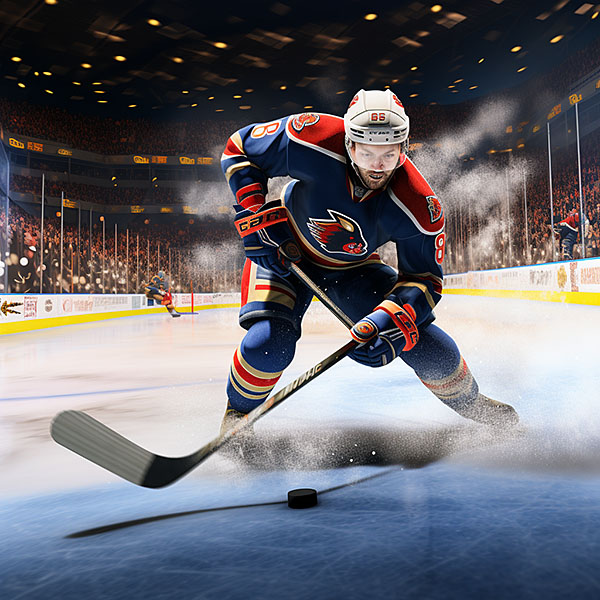 In November 2002, SEGA announced the release of "SEGA Sports NHL 2K3" for the PlayStation2 computer entertainment system. Delivering the most true-to-life hockey simulation, "SEGA Sports NHL 2K3" successfully replicates the sport's details such as lifelike goalie maneuvers, strategic line changes, battling for the puck against the boards and extensive individual player and team attributes that result in ultra-realistic play. Produced by Visual Concepts Entertainment, a SEGA development studio, and developed by Treyarch LLC, "SEGA Sports NHL 2K3" provides the features that hockey fans covet, from an in-depth Franchise Mode and full lineup of NHL and International teams to its authentic ESPN telecast-style presentation.
"Hockey fans and gamers alike will appreciate the action, depth and realism built into 'SEGA Sports NHL 2K3' for PlayStation 2," said Tom Nichols, vice president of sports marketing, SEGA of America, Inc. "'SEGA Sports NHL 2K3' combines total control of all the on-ice action and off-ice team management to give gamers the most intense and authentic simulation of the sport."
"SEGA Sports NHL 2K3" uses an advanced physics-based gameplay system and unprecedented Artificial Intelligence (AI) to more accurately simulate the NHL. Unlike other hockey games that are based on percentages, the goalies, players and the puck in "SEGA Sports NHL 2K3" are all governed by the game's sophisticated physics engine, allowing for more realistic shooting, checking, skating and goaltending. Melding flawlessly with the game's physics is an adaptive AI system that allows each player to react to hundreds of unique on-ice situations. When setting up for a save, goalies will dynamically react to the puck and positioning of the opposing forwards, while AI teams will execute realistic power-plays, forechecks, perform odd-man breaks and line changes.
While other hockey games feature goalies without specific player attributes, who attempt saves with limited movements, "SEGA Sports NHL 2K3" shows goalies playing the position as it is meant to be played. In "NHL 2K3," the new Reactive Goalie Positioning lets goalies move side-to-side, and from dive to save, without ever having to return to a center or idle position, allowing them to make save upon save with the most realistic maneuvers of any hockey video game. Also new in "SEGA Sports NHL 2K3" is Complete Lines Control, which gives gamers the ability to rotate offensive, defensive, power play and penalty kill lines independently and set strategies for each of these lines on the fly. Along with this ability is Board Pinning, where gamers can pin players against the boards and dig for the puck with multiple control options, bringing yet another level of realism to hockey video games.
These exclusive features are complemented by a myriad of graphical enhancements taking advantage of the powerful next-generation hardware. Dynamic lighting differs by arena, while specific elements such as glass reflections, uniform fabric, ringside decals and ice reflections are presented in vivid detail. Player models have been enhanced to look more like their real-world counterparts, and new motion-captured animations makes for ultra-realistic movements on-ice. An ESPN telecast-style presentation, featuring the signature National Hockey Night theme, TV-style player introductions, game highlights and replays using a telestrator, wrap-up the stellar visual package.
"SEGA Sports NHL 2K3" also gives gamers the choice of six different gameplay modes, including Quick Game, Exhibition, Season, Playoffs, Tournament and the brand new Franchise Mode. In the Franchise Mode gamers can select one of the existing NHL teams or create their own custom team and develop it into a dynasty. Users can negotiate contracts, sign, trade and release players and scout upcoming rookies in the NHL entry draft. As they compete for the coveted Stanley Cup over multiple seasons, players also have the opportunity to take part in mid-season All-Star games and earn a myriad of postseason awards. Additionally, the SEGA Sports Challenge, appearing in the SEGA Sports 2K3 games, allows fans to compare their offline stats against other players nationwide on segasports.com.
"SEGA Sports NHL 2K3" is endorsed by the Philadelphia Flyers All-Star Center Jeremy Roenick and is currently available for PlayStation 2.