Shark Tale
Little fish Oscar by Will Smith finds an unlikely friend and ally in Lenny by Jack Black, a great white shark who eats only vegetables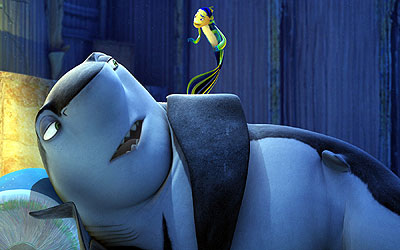 Shark Tale is an animated film that immerses viewers in a vibrant underwater world filled with quirky characters and unexpected twists. Directed by Vicky Jenson, Bibo Bergeron, and Rob Letterman, the film follows the journey of Oscar, a small fish with big dreams who finds himself entangled in a web of deceit and adventure. Set in a coral reef metropolis, Shark Tale delves into themes of friendship, identity, and the importance of being true to oneself:
Unlikely Hero: The story centers around Oscar, a fast-talking, ambitious fish who dreams of rising above his humble job at the Whale Wash and becoming a wealthy celebrity.
Case of Mistaken Identity: A twist of fate leads Oscar to be mistaken for a heroic shark slayer after a series of events involving the son of a shark mob boss. Oscar's newfound fame and the consequences of his choices form the core of the plot.
Colorful Underwater World: The film showcases an imaginative and visually captivating underwater realm inhabited by a diverse array of aquatic creatures. The detailed animation adds depth to the setting and characters.
Friendship and Loyalty: As Oscar navigates his newfound celebrity status, he discovers the true value of friendship and loyalty. His interactions with characters like Angie, Lenny, and Sykes highlight the importance of genuine connections.
Lessons in Authenticity: Shark Tale's narrative explores the theme of authenticity, encouraging characters to be honest about their identities and embrace their true selves rather than conform to societal expectations.
Humor and Pop Culture References: The film is filled with humor, clever wordplay, and references to pop culture, making it enjoyable for both children and adults. The characters' quirks and antics contribute to the lighthearted atmosphere.
Underlying Morality: The story also addresses themes of morality, ethics, and the consequences of one's actions. The characters' decisions have a ripple effect that influences their relationships and the underwater community.
Heartwarming Moments: Amidst the humor and adventure, Shark Tale delivers moments of heartfelt emotion. These moments add depth to the characters and contribute to the emotional resonance of the story.
Family-Friendly Entertainment: Shark Tale strikes a balance between entertainment and life lessons, making it an enjoyable choice for family movie nights. Its engaging plot and relatable characters cater to a wide audience.
Shark Tale takes audiences on a colorful underwater adventure filled with humor, friendship, and lessons about staying true to oneself. Through its vibrant characters and imaginative setting, the film reminds viewers that embracing one's identity and valuing genuine connections are key to navigating life's currents.
Oscar is a fast-talking little fish who dreams big. But his big dreams land him in hot water when a great white lie turns him into an unlikely hero. At first, his fellow fish swallow Oscar's story hook, line and sinker and he is showered with fame and fortune. It's all going along swimmingly, until it starts to become clear that Oscar's tale about being the defender of the Reef is all wet. Oscar is finding out that being a hero comes at a Market Price when his lie threatens to make him Catch of the Day. Now he has to tread water until he can get the scales to tip back in his favor again.
In 2004, DreamWorks Consumer Products lined up partners in support of the computer animated feature film. Anchored by multi-million dollar deals, the studio anticipates that the domestic promotional program will be one of its most far-reaching and multi-faceted to date. The all-family film has attracted a diverse mix of promotional support including returning partners Burger King Corporation, General Mills and Hewlett-Packard, as well as new partnerships with Coca-Cola, Krispy Kreme and Great Clips.
The partnerships were in-line with DreamWorks' overall strategy to develop fun and innovative programs that speak to diverse segments of consumers. From packaged goods to retail brands, the Shark Tale promotional mix will reach audiences in every age group. Beginning in mid-August of 2004, key promotional highlights include:
One of Coca-Cola's largest entertainment promotional partnerships to date, reaching the entire family, with Coke focusing on teens, and Minute Maid and Hi-C focusing on mothers of younger children
Krispy Kreme's first-ever extensive film promotion
Great Clips' first-ever movie promotion, further positions them as a leader in the salon industry
Worldwide partnership with Burger King Corporation, marking the Company's ninth alliance with DreamWorks movie and TV properties
General Mills' most beloved brands bring the film to life with exclusive Shark Tale brand cereal and fruit snacks, continuing a multi-picture partnership
National and spot television, radio, PR and print campaigns, Internet, in-store POS and national FSIs
Shark-Tale-themed items featured in more than 55,000 retail locations this fall
"We have always prided ourselves on developing fresh and innovative programs with the right mix of creative partners, who are committed to translating the feel of a film beyond the theatre," said Anne Globe, head of DreamWorks Consumer Products Marketing and Promotions. "All of our partners are contributing unique components that will help bring Shark Tale to life and reach audiences in every age group."
Burger King Corporation: Worldwide partner Burger King Corporation will serve up a Kids Meal program, featuring ten different Shark Tale collectible premiums over a five week period at its nearly 8,000 BURGER KING restaurants nationwide. The program will be supported by a national television campaign, in-store merchandising, an Internet component, Kids' Club birthday direct mailers, as well as a dedicated Kids' Club Adventures Newsletter tied to the promotion, reaching millions of kids. The Shark Tale program continues the five-picture alliance announced by DreamWorks and Burger King Corporation in 2001, and marks the ninth partnership over a ten- year time period.
Coca-Cola: The Coca-Cola Company will make waves with its Shark Tale promotion through powerful brand names and extraordinary consumer reach. The program will be featured on more than 100 million packages of Coca-Cola classic, Caffeine Free Coca-Cola classic, Cherry Coke and Vanilla Coke, along with Minute Maid and Hi-C in the U.S. alone. Brand Coke will tie its popular, teen-focused "Real" campaign to the strong hip-hop music component of the film. The campaign will include a unique soundtrack tie-in, linked to Mary J. Blige's re-make of the song "Got to be Real," which is featured in the movie. The program will be promoted through a national television campaign and in-store displays in over 40,000 retail locations. Minute Maid and Hi-C will focus on mothers of younger children with "Fin & Games," and Coca-Cola will support the promotion with a national sweepstakes offer, radio spots, in-theatre fountain cups and an Internet component.
General Mills: Continuing their multi-picture partnership with DreamWorks, General Mills will feature Shark Tale on more than 40 million packages of popular brands. Shark Tale will be featured on Pillsbury, Totino's, Pop Secret and Betty Crocker as well as a Shark Tale limited edition cereal and Shark Tale-themed fruit snacks. In addition to the Shark Tale cereal, the Big G Cereal division will lead the effort with fun activities and premiums in specially marked boxes. The promotion will be supported by a television campaign, in- store support, FSIs, and public relations.
Great Clips: Great Clips, the largest, no appointment, value hair care brand in the $50 billion salon industry, will dive in with their first-ever movie promotion. Great Clips' program will feature a national sweepstakes offer and be supported by television, radio, print and a powerful in-salon effort featuring signage. Utilizing their presence in NASCAR, Great Clips will also incorporate Shark Tale into their car design, driven by elite young star Kasey Kahne, during four Busch Series races that will garner a multi-million dollar value in incremental media exposure. A die-cast miniature version of the Shark Tale / Great Clips car will also be available to consumers trackside, and in mass and specialty stores.
Hewlett-Packard: As DreamWorks' preferred technology partner, much of the Shark Tale movie is being created through the use of Hewlett-Packard technology. The integrated Shark Tale promotion will be supported with media and a major on-line presence, including games, printables and activities. HP will also leverage the association with their extensive base of HP consumers and employees.
Krispy Kreme Doughnuts: Executing their firs extensive film promotion to date, Krispy Kreme will allow consumers to sink their teeth into Shark Tale-themed doughnuts, supported by an in-store campaign in Krispy Kreme retail stores across the country. The well-loved brand will also be a heavy supporter of inventive in-theatre activities and local PR events.
DreamWorks was formed in October 1994 by Steven Spielberg, Jeffrey Katzenberg and David Geffen -- to produce live-action motion pictures; animated feature films; network and cable television programming; home video entertainment; records; books; toys; and consumer products.