Shoe Shoe Doll - Chou Chou
Charming Chou Chou is a dear little baby doll just the right size and weight for little mommies to cuddle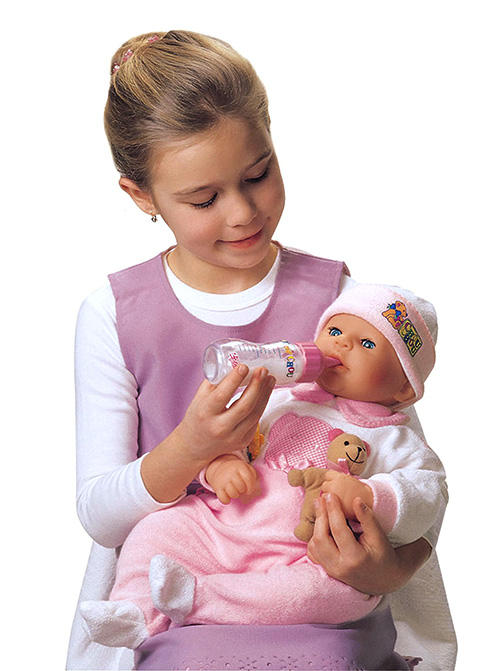 Rock-A-Bye Chou Chou Doll - Rock-a-bye baby--when this doll is patted, the crying will stop. Rock A Bye Chou Chou makes lots of cooing and burbling sounds, and just like a real baby, she cries for attention, too. She can be comforted by patting her firmly on the back or by giving her a bottle or her own pink pacifier. When Chou Chou is placed on her back to sleep, her blue eyes close, and she "falls asleep" with gentle, regular breathing sounds. When she's picked up, her eyes pop open and she "wakes up" with giggling or crying. The 19-inch doll has the same high-quality materials and construction of all Zapf dolls, with a pretty, hard-vinyl face, molded vinyl hands and feet, and bean-filled arms and legs for a cuddly feel. Rock A Bye Chou Chou wears a pink and white sleeper with a matching cap.
Chou Chou Care Set and Feeding Accessories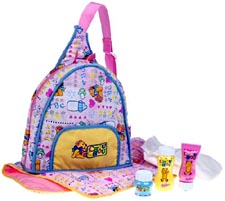 Chou Chou Changing Backpack - Just like real infants, pampered baby dolls deserve fine treatment when it's time for a diaper change. This versatile cloth diaper bag holds all the accessories needed for a quick change, including one doll-size disposable diaper, a large cloth changing pad, and three plastic bottles of pretend lotion and baby powder. The diaper bag has a long, adjustable strap so it can be worn over the shoulder like a purse or across the body as a backpack. Both the bag and the changing pad are made of a pretty cotton print covered with teddy bears and baby bottles, and the pad is large enough to double as a doll blanket.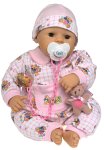 Little Chou Chou Pink Gift Set - Charming Chou Chou is a dear little baby doll just the right size and weight for little mommies to cuddle. She has a soft cloth body and high-quality, molded vinyl head, arms, and legs, with sweetly curled fingers and toes. Chou Chou has brown blinking eyes with long lashes and an open mouth so her thumb will fit inside. When she tires of her thumb, she can suck on the pacifier attached to her outfit with a pink chain and teddy bear clip. Chou Chou wears a disposable diaper and a pink checked romper suit and matching cap printed with tiny teddy bears, and a tiny cloth teddy bear is tied to one wrist. Her extra outfit is a white playsuit with blue checked trim and matching stocking cap. Both Chou Chou and her attractive clothing are made of the highest-quality materials, with thoughtful attention paid to every detail.
Once you have held CHOU CHOU, you will not want to set her down. She is soft and cuddly with the size, weight and feel of a real baby. Rockaby shoe shoe reacts to you. Zapf Creation - whose dolls are part of one big family. From play to display, Zapf Creation dolls excite children and enlighten adults worldwide with products such as baby born, Chou Chou, Colette and Designer dolls.