Sidewalk Chalk Spray Stencil Art Set
Sidewalk Art Set by Cadaco.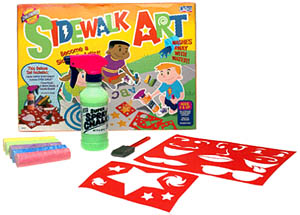 Sidewalks don't have to be boring--spruce them up by becoming a sidewalk artist. This kit contains everything you need to jazz up the neighborhood--most importantly, five fat 4-inch sticks of sidewalk chalk. A set of red plastic stencils make it easy to create flowers, lips, glasses, rockets, and other shapes. But the best part of all is the 7-ounce bottle of green Super Spray Chalk, a nontoxic liquid that sprays on and looks like chalk when it dries. You could even use it to decorate your next sandcastle. Make free form designs or illustrations, or use the enclosed stencil sheets. Learn to play cool sidewalk games with the activity booklet. Includes 1 bottle super spray chalk, 5 pieces of stick chalk, foam brush, 6 plastic stencil sheets, and activity booklet.
Sidewalk spray chalk with stencils takes the classic joy of sidewalk chalk art to the next level. This creative outdoor activity allows kids to spray vibrant colors onto the pavement using easy-to-hold spray bottles, making it accessible for even younger children. The inclusion of stencils adds an extra layer of excitement, enabling kids to create more complex and polished designs effortlessly. Whether it's geometric shapes, animal figures, or even alphabets, stencils offer a structured way to explore art and imagination. Unlike traditional chalk, the spray format can create a misty, airbrushed effect, adding a new dimension to the artwork. This fun and interactive playtime encourages not just artistic expression but also fine motor skills and hand-eye coordination. Plus, it's a fantastic way for families to spend quality time outdoors.