Silly Golf Goofy Gopher Game
The Goofy Gopher Golfing game from Milton Bradley.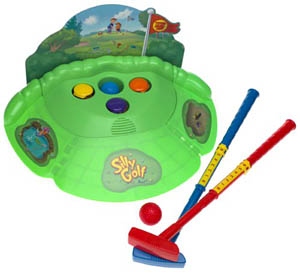 Reviewer: The characters voices and comments are very funny. When the little Gophers go down in thier holes they talk as if in a cave. They seem to have endless sayings. Has a little bit of assembly, but not too hard. It was easy to play and the kids had lots of fun. The toys is made of really high quality plastics and should last a long time.
A golf game designed for young children introduces them to the basic mechanics and joys of the sport in a way that's both entertaining and developmentally appropriate. From the colorful clubs and balls to scaled-down putting greens, these games are often designed with eye-catching aesthetics to engage the child's imagination. The act of swinging the club and aiming for the hole fosters hand-eye coordination, focus, and fine motor skills. Because golf is a game of both skill and strategy, even at a simplified level, it provides a great early introduction to concepts of distance, angle, and even simple physics. Whether playing indoors or outdoors, this scaled-down version of golf offers a constructive way for children to expend energy, practice patience, and even learn about sportsmanship—all while having fun.