Sing and Snooze Pooh
Sing Me to Sleep Pooh by Fisher-Price.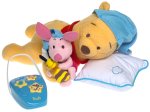 This adorable 14 inch plush Pooh is dressed in his pj's and is ready for bed. When the child sits him up and sqeezes his hand Pooh will say he is ready for his nap. When the child lays him down he will start to sing his very special Pooh version of Rock a Bye Baby and gradually sing himself to sleep. When he completly falls asleep his tummy will rise up and down as he snores. In his dream like state Pooh will say some very cute phrases as well. Pooh will wake up and say a phrase any time the child puts him back in the sitting position.