Sing Me to Sleep Pooh
A soothing alternative to a wind-up nighttime musical toy.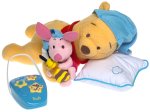 A soothing alternative to a wind-up nighttime musical toy, this soft plush sleeping Pooh, accompanied by his best friend Piglet, can be placed in a corner of the crib and controlled by remote. Playing the music from a distance means no more sneaking in to rewind a toy and possibly disturb the baby. Pooh is dressed in a blue nightcap and snuggles on a small pillow, which is a plastic music unit covered with cotton. It has a soft flashing light inside and there is an on/off switch underneath. When pressed, Pooh's familiar voice sings a lullaby. The blue plastic remote activates one of three choices--soft, tinkling classical music, a Pooh song, or chirping birds and nature sounds. Parents will need to decide if the hard plastic pillow unit is a safe choice for their child. Infants will drift into dreamland as Pooh sings an adorable lullaby. A convenient remote control lets you activate 1 of 3 soothing modes or turn the toy off without disturbing your child. With Sing Me To Sleep Soother, Infants will have dreams as sweet as honey.
Lullaby music offers a range of benefits that go beyond simply helping babies fall asleep. One of the most obvious advantages is its calming effect, not just on the baby but also on parents. The soft, rhythmic melodies can soothe a fussy or crying baby, reducing stress and making bedtime a more peaceful experience for everyone involved. Furthermore, lullabies can serve as an early introduction to music, nurturing a baby's auditory skills. Listening to lullabies can also promote emotional development, as the comforting tunes and the closeness of a parent singing can enhance the parent-child bond. Moreover, the repetitive structure of lullabies may help improve a baby's memory and attention span. Some studies also suggest that such music can positively affect physiological functions, such as slowing down heart rates and improving sleep quality. Overall, the soothing power of lullabies offers both psychological and physiological benefits that aid in a baby's overall well-being.