Skannerz Radica Barcode Scanners Game
Scannerz UPC Game with Batteries.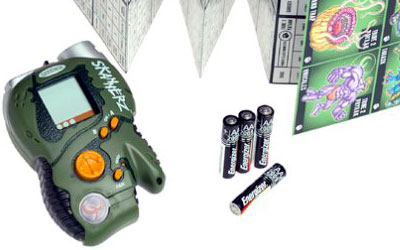 Unleash the world of monsters, magic and mayhem with Skannerz from Radica. Creatures from a distant planet are trapped in UPC bar codes. Begin scanning any consumer product for signs of life and start collecting. Unleash hundreds of monsters, weapons and magic. Use these to battle alone or connect with a friends Skannerz for head to head competition. Colors may vary. Four AAA batteries required, these are included in this special bundle pack.
A barcode scanning game brings a modern twist to playtime, seamlessly integrating technology with traditional game elements. These games often involve scanning barcodes from real or virtual items to unlock characters, levels, or tools within the game. This adds a tangible, scavenger hunt-like aspect to the gaming experience, encouraging players to explore their environment and interact with everyday items in new ways. The real-world scanning adds an extra layer of excitement and unpredictability, as players never know exactly what new element a freshly scanned barcode might introduce. It's like combining the joy of opening a mystery gift with the interactive nature of video games. Whether playing solo or with friends, a barcode scanning game offers a unique blend of physical and digital play that captivates players of all ages.