Sonic Hedgehog Mega Collection Gamecube
Sonic The Hedgehog Returns to the Nintendo GameCube in Sonic Mega Collection; Value-Priced Compilation Features More than Seven Classic Sonic Games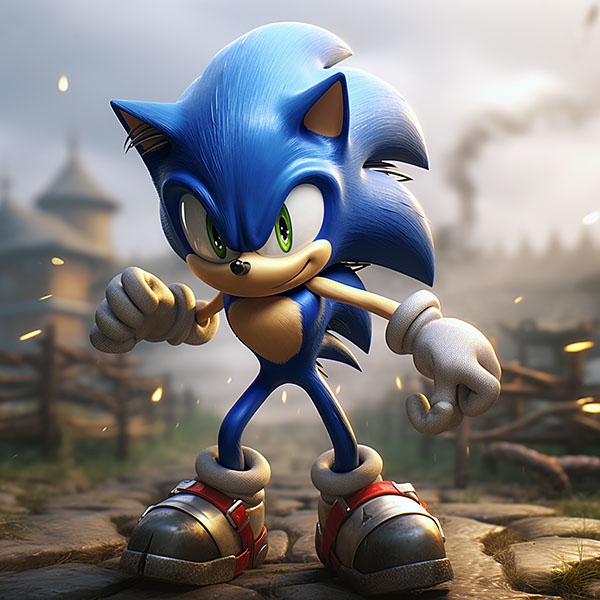 Sonic the Hedgehog is a video game character created and produced by Sega. First introduced in 1991, Sonic quickly became an iconic figure in the gaming world, recognizable by his blue color and super-fast speed. The character was developed as a counter to Nintendo's Mario, and he quickly gained a massive following. The original game was a side-scrolling platformer where Sonic had to collect rings and defeat the villain, Dr. Robotnik, also known as Dr. Eggman. Over the years, the franchise has expanded to include numerous sequels, spin-offs, comics, animated series, and even a feature film. Sonic's appeal lies in his rebellious attitude, his incredible speed, and the engaging, fast-paced worlds he inhabits. The Sonic games have often been praised for their innovative level design, memorable music, and challenging gameplay, making Sonic the Hedgehog a enduring and beloved figure in the realms of gaming and pop culture.
In November, 2002, Sega of America announced the release of "Sonic Mega Collection" for the Nintendo GameCube. "Sonic Mega Collection" is a "must have" for long time fanatics and newcomers to the series alike, featuring seven classic Sonic The Hedgehog games from the SEGA Genesis, five additional unlockable games and a Sonic museum filled with art, comics and more.
"Sonic Mega Collection" includes seven of the most-loved Sonic games of all time, including: "Sonic The Hedgehog," "Sonic The Hedgehog 2," "Sonic The Hedgehog 3," "Sonic & Knuckles," "Sonic 3D Blast," "Sonic The Hedgehog Spinball" and "Dr. Robotnik's Mean Bean Machine."
"A new generation of fans have recently discovered what us older gamers have know forever - that Sonic rules!" said Mike Fischer, vice president of entertainment marketing, SEGA of America, Inc. "Now old-school gamers like me can relive some of the most influential games of all time, and new fans of the series can experience all the classic games that made Sonic a superstar!"
Loaded with hyper-speed ring collecting fun, "Sonic Mega Collection" features SEGA's mascot and all his friends in some of their greatest adventures ever. The game also includes a collection of comic, concept and cover art and many more surprises.