Sonic Heroes
Need some new heroes?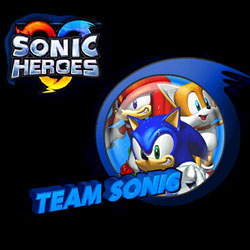 Sonic Heroes Tips
Start with the speed type. Once you see the power type, you can hit a plate that can hit you forward. For Ape Empire, the best character is the power type. If you keep hitting the legs and keep on getting Team Blast, you can destroy him. Just keep on doing it.
With the two that come down and bounce back up, you'll have to hit the shield, otherwise you'll get hurt by the wings and the sword thing.
You need to get seven chaos emeralds if you are going to unlock the last team. It isn't much of a team, actually. It may be only one character. The image only shows one character, while the other pictures show three in the team.
After you use team blast with Sonic's team, if you use his regular move against an enemy, you'll be spinning around it.
Remember to collect all of the seven chaos emeralds on your journey. To do this, you need to go to the second type of course, the first course after that, there will be a boss. You collect the key in that course and you will have an emerald challenge. Team Rose would be a good team to send to collect the seven. After that, you can unlock the last boss.
In Sonic's most exciting adventure yet, you maneuver a team of three Sonic characters through massive levels to overcome the ultimate evil! You guessed it, Dr. Eggman is on the loose once again, but this time he'll have to take on three powerful characters at once! Whether he's trying to outrun Sonic, or dodge Knuckles punches, he'll have plenty to contend with. All twelve characters have unique strengths that you'll take full advantage of to get your team through the course at full speed. Whether you choose Team Sonic, Team Dark, Team Rose, or Team Chaotix, you'll be off on a wild journey filled with challenging missions unique to each team. In this groundbreaking title that brings the Sonic series to PlayStation 2 and Xbox for the first time, Sonic Heroes marks the next evolution in Sonic's gaming career. Each team boasts multiple specialized stages with unique missions and CG movies driving each team story forward. Experiment with the team formations to learn the best way to defeat enemies, solve puzzles, and navigate the huge environments.Each stage contains multiple paths and missions for tons of gameplay hours.