Sonny the Seal Ring Toss Game
A fun game, especially for younger children.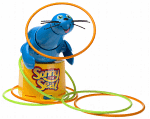 Sonny the Seal is an amusing variation on the ready, aim, throw games that have been around forever. Sonny sits on top of a yellow platform. When activated, he moves his head and neck back and forth tempting your child to toss a ring over his head. When a ring goes over his head and past his tail, Sonny barks with joy and claps his flippers--every success is immediately reinforced. He will teach your child invaluable eye-hand coordination skills and instill confidence at the same time. Sonny's three green and three orange lightweight rings will provide hours of indoor and outdoor fun. Try to toss the rings around this motorized seal's neck as he bobs up, down and side-to-side. Succeed, and he'll bark and clap. First player to get three rings around Sonny's neck wins. NOTE: Kids as old as 8 years enjoyed this game. It became a test class's mascot. A Parents' Choice Recommendation. (Laura Spannagel, Parents' Choice, 1999).