Sparkle Style House Fashion Polly
Fashion Polly Sparkle Style House by Mattel.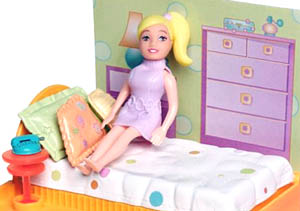 Little Polly Pocket can have a day of beauty or rest with this compact set that includes a kitchen, bedroom, bathroom, and living room. The set comes with a 3.5-inch-tall blond Polly figure, her pet cat, and an array of accessories, including several trendy mix-and-match outfits, a flip-top table, a barstool, lampshades, pillows, and more. This set also lets you add a little sparkle to Polly's clothing and house accessories--the included pink plastic closet, tube of glue, and two tubes of glitter make it happen. Choose the piece you want to decorate, apply glue where you want the glitter to stick, hang it in the Glitterific Closet, then pour glitter through a hole in the top as a battery-operated fan blows it onto the item. Careful construction ensures that glitter won't get everywhere, and there's a way to gather the unused portion without making a mess.