Sparkling Symphony Gym
Classical music and childhood classics combine with lights and action to entertain babies and parents alike in this Sparkling Symphony Gym from Fisher-Price.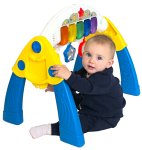 Dangling sparkling star, sun and moon stimulate early visual skills. When touched, they also start the music, sounds and lights that encourage Baby to reach out, touch and manipulate the environment. Two musical choices include long play for approximately 10 minutes or short play of 1 song. The activity gym converts into a toddler's piano, also with 2 musical options: press the keys to hear individual piano notes, or press the keys to hear a melody. Includes on/off switch. Newborn and up. Imported. The Sparkling Symphony Gym surrounds kids--from cooing, curious babies to budding toddler maestros--with a stimulating, interactive environment that features the soothing classical music of Mozart, Beethoven, and others (five selections in all). For newborns, the gym can provide continuous lights, sound, and music, as your baby looks up at a twinkling display overhead. But as your baby grows, you can set the Symphony Gym to play whenever the colorful star, sun, and moon are touched by reaching hands, encouraging interactive play and stimulating visual skills. For toddlers, the top of the gym flips over to become a fun-to-play first piano, with sparkling keys that can be set to play either single notes or melodies.
Listening to classical music has been shown to have a variety of benefits for young children, both cognitively and emotionally. Classical compositions often have complex structures that can help enhance spatial-temporal skills, aiding in problem-solving tasks like mathematics. The calming effect of classical music can also reduce stress and anxiety, helping children to focus better on tasks at hand. Additionally, exposure to this genre can foster an appreciation for music and the arts from a young age, potentially inspiring children to take up musical instruments themselves. Music with slow tempos can be particularly effective at calming children, making it useful for bedtime or other moments requiring tranquility. Moreover, listening to classical music can improve memory, attention, and spatial-temporal skills, enhancing academic performance in the long run. Some studies even suggest that incorporating classical music into a child's daily routine can contribute to the development of emotional intelligence, including empathy and self-regulation. Therefore, introducing young children to classical music can be a valuable tool for their overall development.