Spherical 3D Jigsaw Puzzle Globe
Spherical 3D Jigsaw Puzzle: Antique Globe by Buffalo Games, Inc.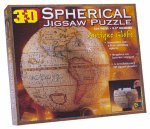 No ordinary jigsaw, this puzzle assembles into a 9.5-inch globe with a surface image created from old mariner's charts. To enable freestanding rigidity, the extra-thick cardboard pieces are designed to fit together a mite more snugly than typical puzzle pieces. There are two construction methods: tough (use the numbers and arrows on the back of each piece as a guide) and really, really tough (just use the map image on the front). The specially designed trap door at the north pole allows you to master the fiddly but oh-so-satisfying last piece. Cardboard base and full instructions are included. A recreation of antique sailing charts, capturing the spirit of adventure of a time gone by.
A spherical 3D jigsaw puzzle of the globe serves as an exciting and multifaceted educational tool. Beyond the basic joy and challenge of solving a puzzle, this unique format allows children and adults alike to gain a tangible understanding of Earth's geography. Users can physically feel the contours of continents and oceans, and often the puzzles are designed with additional details such as country borders, capitals, and major landmarks. This hands-on experience provides a more memorable way to learn about our planet than simply looking at a flat map. Moreover, the act of piecing together the globe can improve spatial reasoning, hand-eye coordination, and problem-solving skills. The completed 3D globe also serves as a great visual reference point for discussions about world cultures, geopolitics, and environmental issues.