Spiderman Movie - Spider Man - Pictures, Trailer, Wallpaper, News
Spiderman Movie Debuts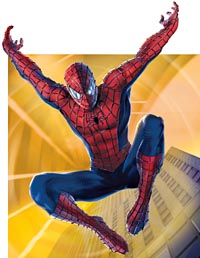 With box-office receipts totaling $114,844,116 Spiderman has become the highest grossing debut in motion picture history, it was announced in 2002 by Jeff Blake, President of Worldwide Marketing and Distribution for Columbia TriStar Motion Picture Group. The studio also announced that it would begin production on Spiderman 2 early 2003, and will release the sequel nationwide on May 7, 2004.
The record-breaking debut earned a per screen average of $31,769 and shattered a number of industry benchmarks including:
Best Opening in Box Office History
Best Single Day Gross (Saturday 5/4 $43,622,264)
Fastest Film to Cross $100 million (3 days)
Biggest Per Screen Average for a Wide Release ($31,769)
Spiderman also set records in its international debut with record-breaking openings in Korea, Taiwan, Malaysia, Singapore, The Phillipines, and Thailand.
"It took a superhero to deliver these historic numbers," Blake said. "The magnitude of this achievement is staggering by every standard and Spiderman's success is a wonderful tribute to a character that has meant so much to so many people for the past forty years. The cast and filmmakers were dedicated to Stan Lee's imaginative vision, and Sam Raimi, Tobey Maguire and Kirsten Dunst deserve our thanks and all the credit for bringing Spiderman to life in such a magnificent, memorable and exciting way."
Spiderman stars Tobey Maguire as the web-slinging superhero and is directed by Sam Raimi. The film also stars Willem Dafoe as the villainous Green Goblin, Kirsten Dunst as Mary Jane Watson, James Franco as Harry Osborn, Cliff Robertson as Uncle Ben, Rosemary Harris as Aunt May and J.K. Simmons as J. Jonah Jameson.
Based upon the world famous superhero that first appeared in a Marvel comic book in August 1962, Spiderman centers on student Peter Parker (Maguire) who, after being bitten by a genetically-altered spider, gains superhuman strength and the spider-like ability to cling to any surface. He vows to dedicate his life to fighting crime.
Spiderman is produced by Laura Ziskin (AS GOOD AS IT GETS, TO DIE FOR, PRETTY WOMAN) and Oscar nominee Ian Bryce (ALMOST FAMOUS, SAVING PRIVATE RYAN, TWISTER). Avi Arad (X-MEN, BLADE) and Spiderman co-creator Stan Lee serve as executive producers.
The screenplay for Spiderman was written by David Koepp (PANIC ROOM, STIR OF ECHOES, THE LOST WORLD: JURASSIC PARK, JURASSIC PARK). The creative team includes Oscar-nominated director of photography Don Burgess (CAST AWAY, WHAT LIES BENEATH, FORREST GUMP), production designer Neil Spisak (THE GIFT, FOR LOVE OF THE GAME, HEAT) and costume designer James Acheson, who has won Academy Awards for RESTORATION, DANGEROUS LIAISONS and THE LAST EMPEROR.
Columbia Pictures, part of the Columbia TriStar Motion Picture Group, is a Sony Pictures Entertainment company. Sony Pictures Entertainment (SPE) is a division of Sony Corporation of America (SCA), a subsidiary of Tokyo-based Sony Corporation. SPE's global operations encompass motion picture production and distribution; television production and distribution; digital content creation and distribution; worldwide channel investments; home entertainment acquisition and distribution; operation of studio facilities; development of new entertainment products, services and technologies; and distribution of filmed entertainment in 67 countries.
Spiderman and Dr. Pepper have entered into a promotion arrangement.