Spy Binoculars
Sleek binoculars with 3X power optics.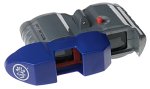 These sleek binoculars have 3X power optics to see far away things up close and a secret rearview mirror to see who's behind you. A sliding lens cover protects and disguises the hidden mirror. It's super bright LED light clips to your finger and lets you snoop at night and doubles as a flashlight when attached to the binoculars. Clip the binoculars to your belt and take it with you everywhere. Requires 2 1.5 volt SR41 button cell batteries (included).
Binoculars are often considered essential spy gear for children who are playing at being spies. These fascinating tools allow young detectives to observe objects and people from a distance, adding a sense of realism and excitement to their imaginative play. With binoculars, children can pretend to be on secret missions, tracking suspects, or gathering intelligence, all while staying hidden and out of sight. The use of binoculars encourages children to pay attention to details, think strategically, and engage in creative problem-solving. It also enhances their outdoor play experience, promoting exploration and curiosity about the world around them. Whether they are pretending to be secret agents or wildlife explorers, binoculars provide children with endless opportunities for adventure and discovery, making them a must-have item in any spy kit.