Night Vision Infrared Stealth Binoculars
Spynet surveillance goggles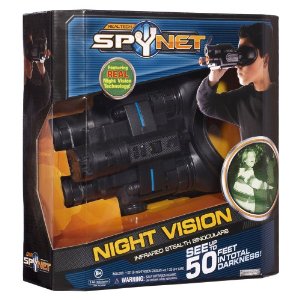 Spy toys get more advanced as technology moves from the secret military sector into civilian uses. With these night vision binoculars, the aspiring spy or detective can utilize infrared surveillance technology to see up to fifty feet in total darkness. The system requires batteries as infrared light is sent into the space, which sensors in the goggles then pick up and transmit to the eyes and visual information. It is a full binocular display allowing both eyes to work together with the technology to see at night.
Evolution of Night Vision Binoculars
The development of night vision binoculars can be traced back to the mid-20th century, closely tied to military applications during and after World War II. Initial night vision devices were large, cumbersome, and required an external infrared light source to illuminate targets. These first-generation devices, although revolutionary at the time, had limited range and resolution.
Second Generation
By the 1970s, the technology had advanced to the second generation, featuring the Micro Channel Plate (MCP) for the first time. MCPs amplified the available light more efficiently, enabling a more crisp and bright image, without the need for external infrared illuminators. These binoculars became smaller, more effective, and began to find applications beyond the military, such as in wildlife observation and law enforcement.
Third Generation
Third-generation night vision binoculars, which emerged in the 1990s, introduced gallium arsenide for photocathodes, offering even better resolution and sensitivity. These high-performance devices could work in extremely low-light conditions and offered excellent image quality.
Fourth Generation
The fourth and current generation removed the ion film barrier from the MCP, increasing the life of the device and providing an even clearer image. These units are not only used by elite military forces but have become increasingly popular for civilian use, including hunting, wildlife observation, and even astronomy.
Civilian Use and Technological Innovations
As the technology became more accessible and affordable, night vision binoculars started becoming popular among civilians for various applications. Today, innovations continue with the integration of digital displays, recording capabilities, and even WiFi for real-time sharing.
The journey of night vision binoculars from bulky, military-only equipment to compact, highly-efficient devices accessible to the general public is a testament to the rapid advancements in optics and electronics.