Stand Up Ball Blast by Fisher-Price
Stand up ball blast has five plastic balls that push through the hole at the top of a tower.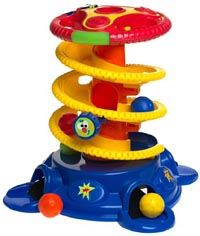 There's lots to see, hear, and do with this toy that will foster the developmental skills of a toddler. When little ones push one of the five plastic balls through the hole at the top of this tower, lights flash and music plays. From there the ball travels down a spiral path all the way to the bottom--unless your toddler chooses to redirect it with the dial on the side of the ramp. Some babies will simply enjoy watching the ball swirl down the ramp. But as babies get a bit older, they will also be able to observe and anticipate the action of the balls and realize that their actions have an effect on where the balls go. How cool is that? For a toddler, very cool. One drawback to this toy is that it probably isn't sturdy enough or heavy enough for babies or toddlers to use it to pull themselves from a sitting to a standing position, though the Pull-up portion of the name implies that's possible. There's plenty more to do with this toy, so that is only a minor consideration.