Starlight Fairy Barbie
Magic wand and blue tutu.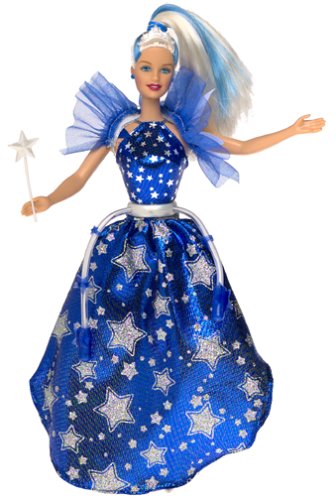 Starlight Fairy Barbie lights up the night sky with her magic star wand. Dressed in a sparkly halter-top with matching skirt that adjusts from short to long or can be replaced with a filmy blue tutu, Starlight Fairy shimmers. Her long, blue-streaked, platinum blonde hair is pulled back in a ponytail and topped with a pearly white tiara. Around her waist is a belt with blue stars that spins and lights up when you press a button on the back of her leg. The spinning star belt is at its best in a dark room, where it does indeed look pretty nifty.
Fairy dolls have long captured the imagination of children and collectors alike, offering a magical escape into enchanted worlds. These dolls typically feature intricate designs, from their delicate wings to their whimsical attire, echoing the fantasy elements that make fairy tales so captivating. The allure extends beyond their appearance; fairy dolls often come with their own unique backstories or belong to a larger fairy world, inviting children to create endless narratives and adventures. For many, they also serve as symbols of nature, wonder, and a touch of magic that can be missing in daily life. The appeal lies in the blend of beauty, imagination, and the promise of adventure, making fairy dolls a timeless favorite.