Super Poo-Chi
Product description and buying information.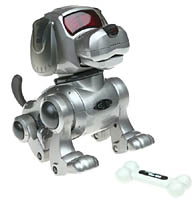 Almost twice as big as the original Poo-Chi, Super Poo-Chi measures 10 inches by 5 inches by 8 inches and is super-smart. Like the original Poo-Chi, Super Poo-Chi reacts to sound and touch and appears to learn and mature, but Super Poo-Chi can also learn his name and recognize his master's voice. This super pooch can be set to either nourish or adult mode. In nourish mode, Super Poo-Chi starts out as a baby, grows to puppy, and then to adult. If trained, encouraged, and fed well, the adult Poo-Chi will become "talented dog" with an impressive repertoire of tricks. If neglected, Super Poo-Chi grows up to be "lazy dog." If set directly to adult mode, Super Poo-Chi will automatically respond to the commands: lie down, sing, sit, and paw. Like the original Poo-Chi, Super sings songs, sleeps, "eats" his bone, and expresses his moods by displaying LCD pictures in his eyes.
Super Poo-Chi will interact and play with other Poo-Chis and all the Robo-Chi Pets. For best performance, it should be played with on a smooth surface and not on a shaggy carpet or the lawn. Poo-Chi should not be submersed in water or left outside. Super Poo-Chi reacts to light, sound, and touch. Three motors for highly expressive animations: crawling, streching and protecting his owner. The eyes show happiness, confusion, sadness and love. It interacts with friends I-Cybie and Poo-Chi. Also sings up to 12 songs.