Super Scooter Shannon
Wonderful remote control toy for girls.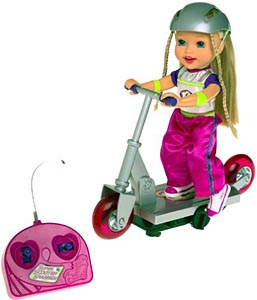 Shannen comes with a radio controller that lets girls actually steer her scooter. With the radio controller, girls can make Shannen: Push forward with one foot on the ground. Pop wheelies. Turn in circles. Shannen's scooter looks real and has cool colored wheels, just like the scooters girls ride. Comes with a helmet and remote control. Sporting flashy colors and super-cool styling, this Super Scooter Shannon is the best-dressed scooter rider on the block. Permanently attached to her beloved scooter, Shannen stands nearly a foot tall and operates at a remote control frequency of 27 MHz. Along with a comb she always carries to keep her long blonde hair looking its best, Shannen comes with an easy-to-use radio transmitter that allows you to move her through a variety of maneuvers and stunts on her scooter. Popping wheelies and turning 360s at the push of a button, Shannen puts her leg down and kicks whenever she moves--giving her a realistic look as she moves through her favorite stunts. Shannen comes with a detachable helmet.
A doll with a scooter adds an extra dimension of excitement to playtime. Children can imagine exciting adventures as they take their doll for a spin around the neighborhood or create fun scenarios with friends. This interactive play encourages creativity and role-playing, allowing kids to mimic real-life activities while caring for their doll. Riding the scooter also promotes fine motor skills and coordination as children maneuver their doll through various obstacles. It's a fantastic way for young ones to bond with their favorite dolls and enjoy the outdoors, fostering both imaginative play and physical activity.