Talking Potty Dotty Doll
This talking doll happens to be a great role model for fledgling potty users.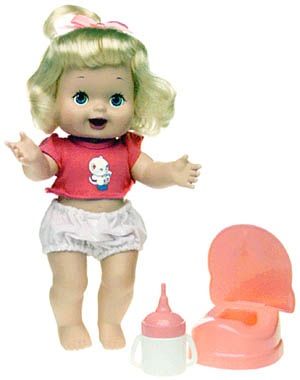 Children, especially those in the process of potty training, are fascinated with human plumbing. This talking doll happens to be a great role model for fledgling potty users. When she's done drinking her sippy cup of water (with a bottlelike nozzle), she announces, "Mommy, I have to go potty." Children better move fast because the trickle is almost instant. In fact, she even cries out, "Hurry, Mommy! Hurry!" (Just like those real-life situations at the mall!) When she sits on her potty and finishes, she says, "I'm a big girl." But if she's pulled away too soon, she protests, "Not finished." And when she has the inevitable accidents, she simply says, "Uh-oh, Mommy." The blonde-haired, blue-eyed Talking Potty Doll comes with her own pink potty and drinking cup.
Dolls that teach about going potty are innovative and educational toys designed to help children learn and understand the basics of toilet training in a playful and interactive way. These dolls often come with special features like a water-filled bladder that can be "fed" with a pretend bottle or cup. After "drinking," the doll simulates the need to use the potty, and children can then assist the doll in using a miniature toilet or potty chair. This hands-on experience allows kids to mimic the process, helping them become more comfortable and familiar with the concept of potty training. Additionally, some of these dolls come with accessories like diapers, wipes, and even training pants, providing a comprehensive learning experience that can help ease the transition from diapers to using the toilet for young children and their parents.