Tattoo Jewelry
Weave, bead, macrame and braid embroidery floss into bracelets, anklets, necklaces and hairwear.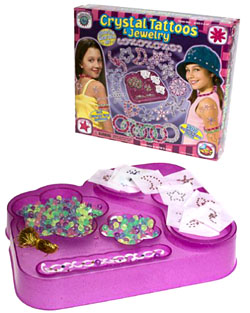 This bold, shimmering fashion statement is just too hot to handle. Crystal tattoos made of peel-and-stick rhinestones will adhere to skin firmly, yet gently. Create pretty designs that wear like jewelry for an elegant and stylish statement. Make bracelets from crystal faceted beads. Tattoos remove easily. Set includes: Bead, elastic, clasps, crystal tattoos, storage tray and instructions.
A fashion playset adorned with peel-and-stick rhinestones brings an exciting world of creativity and glamour to children. These tiny, sparkling gems allow kids to unleash their inner fashion designers as they embellish clothing, accessories, and even paper dolls with dazzling accents. It's a delightful activity that not only encourages artistic expression but also enhances fine motor skills as young hands carefully apply the rhinestones to create stylish and eye-catching designs. Whether they're transforming plain garments into runway-ready ensembles or personalizing accessories to match their unique style, the joy of working with peel-and-stick rhinestones adds a touch of glitz and glamour to playtime, making it an engaging and rewarding experience for kids.