Teenage Mutant Ninja Turtles Motion-Activated Toys
Training Event Teaches Art of Ninja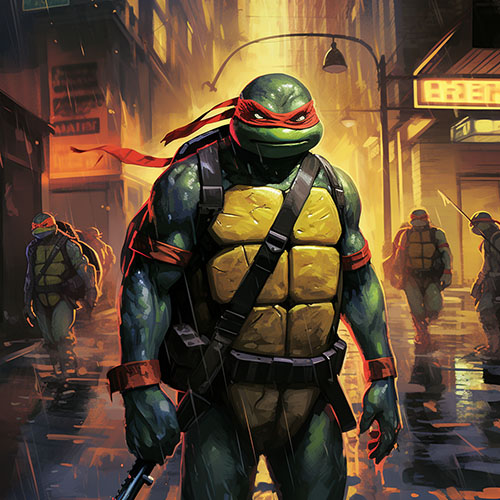 In 2003, Playmates Toys held the Teenage Mutant Ninja Turtles Training Event at Wal-Mart stores across the country, giving kids the opportunity to role-play one of their favorite green heroes. During the event, kids will be able to train with motion-activated toys that resemble Leonardo's Sword, Michelangelo's Nunchaku, Donatello's Bo Staff or Raphael's Sai.
Young martial arts students can master ninja moves while maintaining the mutual respect and safety of their opponents (Their motion-activated "ninja devices" are plastic, and designed with safe fun in mind). Upon completing their training, students will be declared an "official" Ninja Warrior. The first 250 participants at each store will receive a certificate proclaiming them a member of Team Green -- Cowabunga!
An exclusive Wal-Mart program developed by Teenage Mutant Ninja Turtles brand licensing agent 4Kids Entertainment, this event offers kids an array of in-store fun celebrating the popular Teenage Mutant Ninja Turtles role-play toys from Playmates Toys.
"We are delighted to join Wal-Mart and 4Kids Entertainment to launch this exciting one-day promotional event supporting our Teenage Mutant Ninja Turtles line," said Jill Will, senior vice president of Marketing for Playmates Toys. "This event is certain to be a big hit with kids."
Playmates Toys Teenage Mutant Ninja Turtles toy line and accessories are based on the all-new Teenage Mutant Ninja Turtles animated series airing Saturday mornings on Fox Box (Sundays in certain markets). Now in its second season on Fox Box, Teenage Mutant Ninja Turtles is among the most-watched animated programs in Saturday morning kids television.
"Playmates action figures and accessories reflect the new look of the Turtles, their friends and foes -- and the coolest vehicles to ever hit the streets of New York," added Will.