Teenage Mutant Ninja Turtles Toys and Games
Teenage Mutant Ninja Turtles Deluxe Lair Playset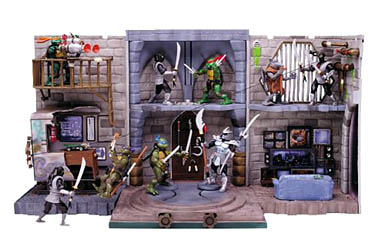 The Deluxe Turtles Lair Playset models from the Teenage Mutant Ninja TV Show. The Playset features lots of spring loaded weapons, trap doors and hand operated features. Folds up into a storage compartment and is portable and easy to carry. Will be packaged in a decorated closed box.
The Teenage Mutant Ninja Turtles (TMNT) franchise has been a cultural phenomenon since its inception in the 1980s. Created by Kevin Eastman and Peter Laird, the TMNT began as a comic book series but quickly expanded into a multimedia empire, with the toy franchise being one of its most successful components. Here's an overview of the wild success of the TMNT toy franchise:
Action Figures and Playsets: The TMNT action figures were an instant hit when they were first released. With detailed designs, articulation, and accessories, these figures allowed fans to recreate their favorite scenes from the TV shows and movies. Playsets, such as the Turtles' sewer lair, further enhanced the play experience.
Vehicles: The toy line also included a variety of vehicles, such as the Turtle Van and the Technodrome, that played significant roles in the TMNT universe. These toys added new dimensions to imaginative play and became must-have items for fans.
Video Games and Electronic Toys: The success of the TMNT toy franchise extended to video games and electronic toys, offering fans interactive experiences with their favorite characters. These products helped to keep the brand relevant and engaging for new generations.
Collaborations and Limited Editions: Over the years, the TMNT toy franchise has collaborated with other brands and artists to create limited edition and exclusive products. These collaborations have attracted collectors and contributed to the ongoing popularity of the toy line.
Longevity and Revival: The TMNT toy franchise has shown remarkable longevity, with continuous releases and revivals that cater to both nostalgic fans and new audiences. The ability to reinvent and adapt to changing trends has kept the TMNT toys in demand for decades.
The wild success of the Teenage Mutant Ninja Turtles toy franchise is a testament to the enduring appeal of the characters and the creative vision behind the products. By offering a diverse and engaging range of toys that capture the essence of the TMNT universe, the franchise has become a beloved part of pop culture and continues to inspire fans around the world.