Teenies Dolls
Mini fashion figures with poseable legs and magnetic feet that trigger toy actions, lights, sounds, and voices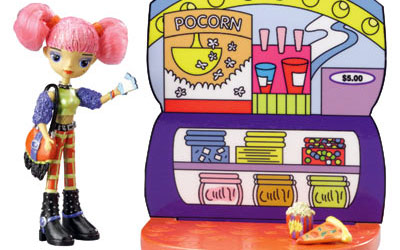 Bold colors, funky hairstyles and fashionably layered looks were the hot new trends for young girls the fall of 2004 as Bandai launched its latest mini doll collection. Called Teenies, the hip new brand featured a collection of stylish three-inch figures that were bendable and poseable as they hung out in their favorite scenes. The dolls also feature magnetic feet that trigger toy actions, lights, sounds, and voices.
Bandai launched with an assortment of twenty-four characters who love to get together and speak with one another.
"The Teenies are one-of-a-kind looking characters, capturing the unique fashion flavor of many teenagers found in the streets of Japan, but totally relevant in style and attitude to today's young girls," said Michael Riley of Bandai. "We're sure every girl will be able to find a version of themselves, whether they be a fashionista, cheerleader, or just someone who loves to hang out with their friends."
The core of the product line is the collectible Teenies Scenes, which feature three-inch figures with groovy fashions, funky hairstyles, poseable legs and magnetic feet. Each comes with themed accessories and an interchangeable play environment where the figure can be posed. For instance, Josie loves to kick back in her plush bedroom. She can either crash on her comfy bed or IM her friends on her computer with the flip of the background scene.
In addition to the Teenies Scenes, the lineup also includes mini-playsets called Magnetic Flairs, which include a light or sound feature that can be activated via the figure's magnetic feet. Since young girls always seem to be on the go, the On the Move Vehicle will be able to get them there in style. Featuring a colorful SUV with various sound and voice features, the vehicle can be connected to the Teenies Cruiser for even more fun. The retro-style Cruiser opens up to reveal a colorful play environment with light and sound features, including the voice of the Teenies character, that are activated via the figure's magnetic feet. Numerous themed accessories also come with each assortment.
And just like girls today, the Teenies are always hanging out at the mall with their friends. The interactive Groove Mall is a two-story playset complete with action, light and sound features - even a moving sidewalk and over thirteen voice phrases from the Teenies - which are activated without the need to push a button. Check out the latest flick on the projected movie screen, browse the hottest fashions in the various play environments, listen to the coolest music or just gossip with friends about the latest crush at the snack bar.