Tony Hawk Underground 2
Leeza Gibbons and her son enjoy skateboard video game at event to support the building of skate parks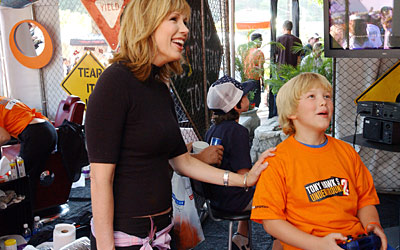 In October 2004, television news journalist and host, radio personality, producer, and businesswoman Leeza Gibbons and her son Nathan demoed the new Tony Hawk video game, Tony Hawk's Underground 2, at the Tony Hawk Foundation event to support building of skate parks in neighborhoods that need help. Tony Hawk's Underground 2 is the latest evolution of the number one action sports franchise where two teams led by Tony Hawk and Bam Margera skate new environments, pull off mischievous pranks, and make a variety of international cities their personal stomping ground.
Join Tony Hawk and skate through a hilarious story, amazing customization, and tons of high flying moves. Tear it up with sticker slaps, projectiles, crazy vehicles, hilarious tantrums, and slow-motion Focus Control. Play as yourself, your teammates, or over 20 special guest skaters. Join the no rules, no limits world tour. Create your own logo for use in graffiti tags, plus create goals, parks, and get your face in the game.
For Playstation 2, XBox, Game Cube, and Game Boy Advance.
The Tony Hawk skateboarding video games have become iconic in both the gaming and skateboarding communities for their addictive gameplay and realistic representation of skate culture. First released in 1999, the Tony Hawk's Pro Skater series allowed players to perform a variety of tricks and stunts in virtual skate parks, often accompanied by a soundtrack featuring popular punk, rock, and hip-hop tracks. These games introduced a new generation to skateboarding, making the sport more mainstream while also giving seasoned skaters a way to enjoy their passion digitally. The controls are often intuitive, yet offer depth, allowing players to string together complicated trick combinations for high scores. Various iterations have introduced features like story modes, character customization, and online multiplayer, continuously evolving to engage fans. The series has helped immortalize skateboarding legends, including Tony Hawk himself, and has significantly influenced the skateboarding subculture.