Tornado Twister Hot Wheels
Fast car game from hotwheels.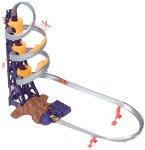 Mind-boggling speeds and loop-de-loop thrills for Hot Wheels fans. Four D batteries (not supplied) power two rubber flywheels; push one of the two included cars toward the flywheels and watch the cars explode up the 3-foot tower before racing round no less than three mid- air loops. Then they coast down, hit those rotating wheels, and get blasted all over again. Sometimes the force is too great and the cars just fly off the track, but that's part of the fun.