Tractor Tom Toys
Hasbro Will Make Toys Based on UK Preschool Sensation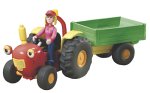 In August 2003, Contender Entertainment Group (CEG) appointed Hasbro to be the master toy licensee in North America for its hit preschool property Tractor Tom. Hasbro launched the first Tractor Tom toys across North America in the second half of 2004.
Tractor Tom became the UK hit of the summer with strong early toy sales in the UK, as well as sales of both videos and books. The video released by CEG has become the best-selling video of an animated ITV show in the past five years.
"We were immediately struck by the thematic farm play pattern, charming characters and adorable vehicle play of the Tractor Tom property," said Ira Hernowitz, senior vice president of marketing for Hasbro's preschool division. "We think the fun and magic of the Tractor Tom characters will translate beautifully into a toy line that preschoolers will embrace."
Contender Entertainment Group Managing Director Richard Bridgwood said, "We're delighted that Hasbro has become our toy licensee for North America. With such great licensees on board we have taken a huge step forward in our strategic aim of ensuring Tractor Tom is the long term character brand for preschool farm play."
Hasbro is a worldwide leader in children's and family leisure time entertainment products and services, including the design, manufacture and marketing of games and toys ranging from traditional to high-tech. Both internationally and in the U.S., its Playskool, Tonka, Milton Bradley, Parker Brothers, Tiger and Wizards of the Coast brands and products provide the highest quality and most recognizable play experiences in the world.
Contender Entertainment Group (CEG) was set up by Richard Bridgwood in 1995 and is one of the UK's fastest growing media businesses. The company distributes material in four principal genres, comprising cult and classic TV, children's programming, nostalgia programming and celebrity based general entertainment. The company is a specialist in all these genres.