Transformer Toys Discount
Transformers: Armada Gigacon Megatron with Mobile Artillery Truck.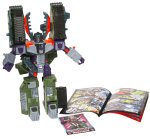 A strong vehicle that transforms into a robot, the Megatron is a lean, green war machine in either mode. Ten inches long, the unit features a spring-loaded main turret--just push the barrel for flashing lights and firing noises. Fearsome jaws project from the front, the turret swivels, and there's a rotating launcher too. Now unfold those rear tracks, flip the turret, do some more twisting and unclipping according to the instructions, and the tank turns into the Megatron robot, bristling with power. There's a baby Leader-1 Mini-Con figure too, which acts as a launcher, a mini-robot, and the key with which most of Megatron's features can be accessed.