Transforming Block Bots Mission Command
Transforming Blok Bots.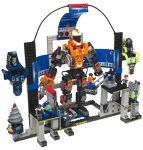 Blocks have never been so cool. Blok Bots combine the techno-fun of robots with the challenge of traditional construction blocks to create this set of transforming structures. The electronic Mission Command includes four uniformed figures and enough parts to build a monstrous vehicle or robot--complete with a talking robot head with a wickedly cool voice. Other voice, light, and sound effects (including an illuminated helmet) enhance 425 interchangeable, snap-on pieces. Little engineers will stay busy with this set for a while.