Transforming Block Bots Mission Command
Transforming Blok Bots.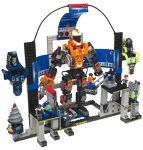 Blocks have never been so cool. Blok Bots combine the techno-fun of robots with the challenge of traditional construction blocks to create this set of transforming structures. The electronic Mission Command includes four uniformed figures and enough parts to build a monstrous vehicle or robot--complete with a talking robot head with a wickedly cool voice. Other voice, light, and sound effects (including an illuminated helmet) enhance 425 interchangeable, snap-on pieces. Little engineers will stay busy with this set for a while.
The fusion of robot toys with building toys that utilize interchangeable, snap-on pieces offers a multi-faceted play experience that is both stimulating and educational. This type of toy not only captivates children's imaginations by allowing them to create their own robots, but it also teaches valuable skills such as problem-solving, spatial awareness, and fine motor skills. The snap-on mechanism ensures that even younger children can join in on the fun, while the endless configurations keep older kids engaged. Adding a robotic element can introduce kids to basic principles of engineering and programming, making these toys an excellent STEAM (Science, Technology, Engineering, Art, and Math) learning tool. Overall, the hybrid nature of these toys appeals to a broad range of interests and skills, making them a hit among kids and parents alike.