Trivial Pursuit Star Wars Trilogy
Star Wars trilogy classic trivial pursuit game.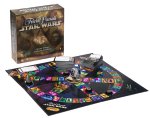 Are you the kind of person for whom the initials T. P. are more apt to trigger a response of Tarkin and Piett than Trivial Pursuit? Looking for an opportunity to put that hard-core knowledge of Star Wars-abilia to the test? Well belly up to the cantina to play the Trivial Pursuit: Star Wars Classic Trilogy Collector's Edition, the customized edition of the now-classic Q&A game designed especially for disciples of the three Ls: Luke, Lando, and Leia. With over 2,000 questions in six categories such as Weapons & Vehicles and Droids, Creatures & Aliens, all based on the first three movies in the Star Wars series, this collector's edition features a numbered game board, pewter tokens, and--in lieu of dice--a battery-powered (two A76 cells, included) R2-D2 model which randomly displays a number with the press of his head. For fact-filled fans who know which Endor's up, the Trivial Pursuit: Star Wars Classic Trilogy Collector's Edition means Ewok, Don't Run.
Capitalizing on the enormous fandom of the Star Wars universe, an entire edition of Trivial Pursuit has been devoted to this iconic franchise. This specialized version allows fans to engage deeply with Star Wars lore, spanning from the original trilogy to the newer installments. Players find themselves answering questions not just about the films, but also the expanded universe, characters, dialogues, planets, ships, and even behind-the-scenes trivia. It offers a unique way for enthusiasts to flaunt their knowledge, while also serving as a fun, educational tool for those new to the franchise. This Star Wars-specific Trivial Pursuit edition showcases the adaptability and reach of the Trivial Pursuit brand, by catering to a niche yet extensive audience, and also demonstrates the evergreen allure of Star Wars as a cultural touchstone.