Turbo Phonics
Teaches letters, phonics, spelling, and rhyming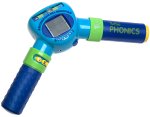 Phonics with a beat. Enter 3 letters and pick a beat. While you conduct the music, letter sounds and words play back in rhythm. Teaches letters, phonics, spelling, and rhyming. Create more than 450 words. Create amazing rhythms with sounds and letters. Turbo Phonics is phonics with a pulse! Enter three letters and pick a beat. Next, get ready to swing - letters sounds and words play back in rhythm, while you conduct the music. Change the word mid-rhythm and Turbo Phonics blends in new letters without missing a beat.
Choose from five energetic rhythms. And that's not all: in rhyming mode, the beat never stops as you enter in one rhyming word after another. Or use the beat bar to tap out your own rhythm. Grab hold of the handlebars and go on a musical journey with letters and sounds. To start, choose one of five background rhythms and enter three letters to make a word. Next, turn one handle and scroll through the alphabet to enter each letter. After three letters are entered, push the go button, and the cheerful computer voice says each letter, then blends the three sounds together to a rhythmic beat. A nice feature is how Turbo Phonics differentiates between words and nonwords. When a real word is created, it says great word. When three letters are entered that don't form a word, it says great sounds.
Turbo Phonics is a clever way to help kids develop early linguistic skills, and its handlebar grip encourages manual dexterity. Along with two levels of volume control, there is a headphone jack for quiet play, which could be especially useful if Turbo Phonics is taken on the road. Teaches letters, phonics, spelling, and rhyming. Features warp dial that goes from slow and low to fast and high; five fun built-in rhythms-from hip hop to jazz; rhythms that incorporate letter names, phonetic sounds, and whole words; an easy-grip rubber turning handle; and is a hand-held unit for portability.