Auto Assault
Massively multiplayer role playing genre with post-apocalyptic challenge, veteran rewards, and flat leveling to the max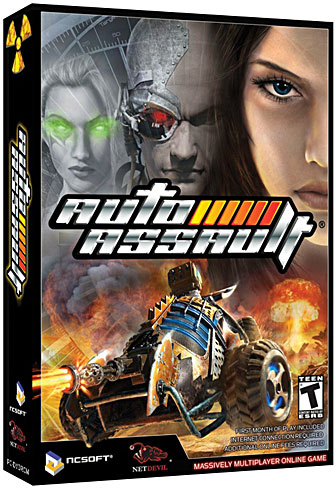 Auto Assault launched commercial service in North America, Europe, and other markets worldwide. Auto Assault is the first massively multiplayer online (MMO) game set in a post-apocalyptic world featuring vehicle challenge on an epic scale and fully destructible environments.
Auto Assault is available at retailers in North America for $49.99. The Limited Edition, which includes a headset to utilize the game's voice chat system and a game soundtrack CD, will be available for $59.99. Both the standard and Limited editions of the game include the first month of online game play. After the first month, players will be charged a monthly subscription fee of $14.99. Sixty-day game time cards will also be available for $29.99.
In Auto Assault, players choose from three races and venture into a post-apocalyptic Earth wreaking havoc and vying for control over the few resources left. Players can design their characters and customize many different vehicle chassis to make their own unique fleet. Players may go on missions with others or on their own, craft unique items, and participate in player-versus-player challenges via the arena system and contested outposts.
Players are encouraged to interact with the game world by powering through buildings and leveling towns.
"Auto Assault gives players the best of action games, the best of role-playing games and a super-cool world to discover," said NCsoft's Robert Garriott.
A veteran rewards program, described on the website, has been established for players who subscribe to Auto Assault within the first thirty days of service.