Earth 2160
State of the art visuals and lighting, multiplayer capabilities, and customization features comprising over 100 hours of gameplay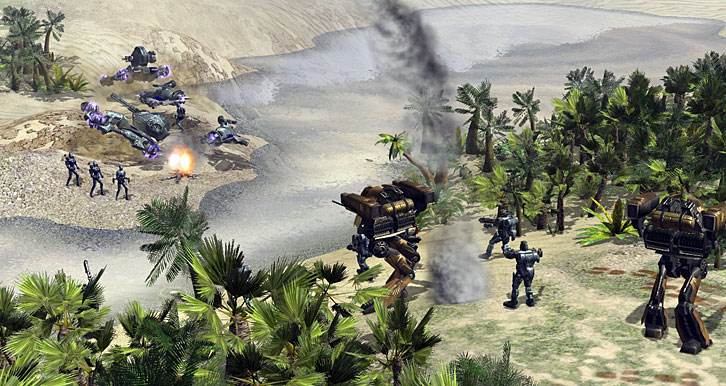 Midway Games was granted United States and Canadian publishing rights for Earth 2160, the highly-anticipated sequel in the top-selling and critically-acclaimed Earth series of real-time strategy titles. The game will be released this November for the PC.
Developed by Reality Pump Studios, Earth 2160 sees conflict arise as the remnants of the Eurasian Dynasty, Lunar Corporation, and United Civilized States terraform Mars following Earth's end. As the civilizations independently rebuild, a group of alien renegades is awakened from suspended animation. The groups must either struggle it out or band together as they try and survive the new alien threat.
"The Earth series is known for combining solid RTS gameplay with a compelling story, and Earth 2160 continues that tradition while adding state of the art visuals and lighting, multiplayer capabilities and a vast number of customization features comprising more than 100 hours of gameplay," said Steve Allison of Midway. "Titles like Earth 2160 that innovate while delivering a gripping gameplay experience are key parts of Midway's growth strategy as the company's publishing portfolio continues to expand."
Earth 2160 takes advantage of cutting-edge pixel and vertex shaders, giving the game a look and feel that is well ahead of other RTS titles running on more traditional graphics engines. With volumetric shading and high-dynamic range lighting, Earth 2160's graphics bring a new level of detail to the RTS genre.
In addition to standard RTS features such as resource acquisition, base building and destruction of enemy bases, Earth 2160 also allows players to play adventure-style missions. Modular construction allows players to customize buildings and units, creating virtually limitless options for players. Virtual Agents are available to assist the player in specific tasks or to act as managers dealing with construction, resources or research; letting the player concentrate on other aspects of the game for an experience tailored to the individual gamer's style.
Midway Games develops and publishes interactive entertainment software for major video game systems and personal computers.
Reality Pump Studios developed Earth 2160.