Guild Wars Factions
Multiplayer online game with roleplaying and competitive player-versus-player scored challenge strategic missions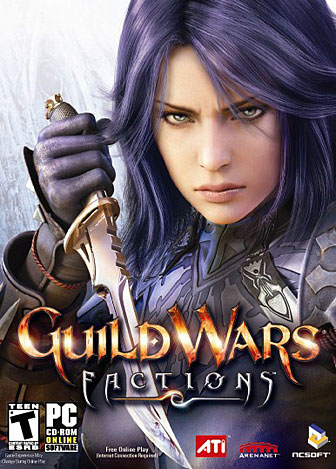 Guild Wars Factions became available in stores worldwide April 28, 2006.
Guild Wars Factions takes place on the Asian-inspired continent of Cantha, where new and existing Guild Wars players join an epic quest. Roleplaying and competitive player-versus-player gamers will be able to join together in guild alliances to take control of territory and determine the fate of Cantha. New scored challenge missions and strategic competitive missions allow players to test their roleplaying prowess. Large-scale alliances struggle to conquer new territory across the continent of Cantha. New elite missions allow skilled players exclusive access to areas designed to be the ultimate cooperative challenge.
"Guild Wars Factions is an exceptional game that invites players to immerse themselves in an epic adventure unlike any they have seen," says Patrick Wyatt of ArenaNet. "The four new mission types create a unique experience that will engage both the roleplaying and competitive gamer in cooperative conquest of territories of the visually stunning, Asian-themed continent of Cantha."
New players will join the more than one million gamers already playing Guild Wars worldwide, and existing players will have a new continent and storyline to explore.
ArenaNet is hosting a massive beta test event in which all existing Guild Wars players and their friends are invited.
A limited edition pre-order package is currently available at retail stores throughout North America. This pre-order pack includes an access key to the Factions Preview Event on March 24, and also provides access to Guild Wars Factions twenty-four hours before the street date, exclusive in-game items for each of the game's new professions, a friend-key that gives access to the FPE for friends without an existing Guild Wars account, a limited trial of Guild Wars for a friend, a tactical guide, a quick reference card, and a CD that includes concept art, wallpapers, and in-game trailers.
Guild Wars is a series of massively multiplayer online role-playing games (MMORPGs) developed by ArenaNet and published by NCSOFT. The original "Guild Wars" was released in 2005 and was noteworthy for its subscription-free model, relying on one-time game purchases instead. This approach made it highly accessible compared to other MMORPGs that require monthly fees. The game is set in the high-fantasy world of Tyria, offering a rich lore and a plethora of quests, battles, and explorative opportunities. The PvP (Player vs Player) elements are particularly strong, giving the game its name, "Guild Wars," as players often form guilds to combat each other or complete challenging in-game objectives. The sequel, "Guild Wars 2," released in 2012, builds upon the foundation of the original while introducing new gameplay mechanics, dynamic events instead of traditional questing, and more. Both games have maintained a strong and loyal fan base, and they continue to receive updates, keeping the worlds fresh and engaging.