Frag Dolls
Female gamers group sponsored by Ubisoft searches for new team member with nationwide audition call for candidates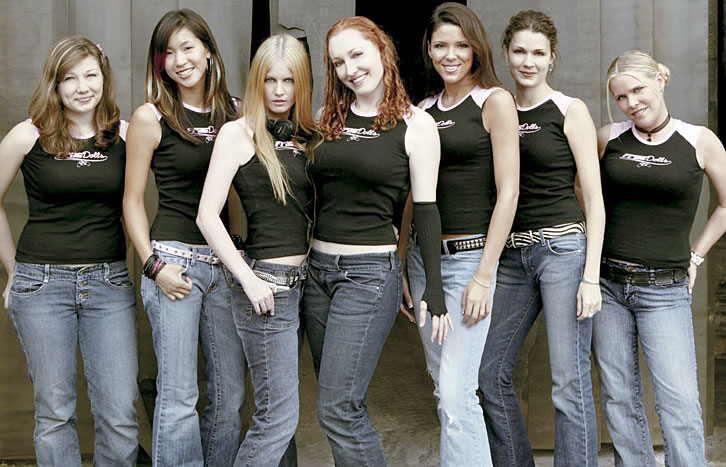 In 2005, an all-girl group of gamers, the Frag Dolls, sponsored by Ubisoft, were in search of a new member. The open call for female gamers who are interested in becoming a Frag Doll kicked off at the Penny Arcade Expo August 27-28 of that year.
"Ubisoft is extremely proud that the Frag Dolls have had such success within the video game community, breaking down the stereotypes of female gamers and in representing Ubisoft among both hardcore and casual video game players," said Tony Kee of Ubisoft. "We're now in search of our newest Frag Doll and we look forward to seeing who will step in and be a worthy member of this elite team."
Female gamers 18 and older in the United States interested in participating in the open call should bring their video game resume and a few photos and are invited to take advantage of an optional videotaped audition to help their selection chances. The videotape segment will consist of a one-minute taped response to the question: "Why should you be a member of the Frag Dolls?"
"The team is looking forward to helping decide who joins us as we begin our second year," said Rhoulette, Frag Doll team captain.
"The girls and I have been receiving e-mails and comments from fans, gamers, and friends asking how they can become a Frag Doll. Well, here's your chance."
In addition, the Frag Dolls will also accept resumes at the upcoming Major League Gaming events, where prospective Frag Dolls can meet members of the team and conduct videotaped segments as well. Resumes can also be submitted along with a cover letter and a few photos to fragdolls@ubisoft.com.
The Frag Dolls have helped dispel stereotypes about female gamers by not only performing well against, but often beating their male counterparts in team-based multiplayer competitions.
Ubisoft produces, publishes, and distributes interactive entertainment products worldwide.