LA Rush
Over-the-top, arcade-style racing game thriller ships for PlayStation2 and Xbox with multi-million-dollar marketing campaign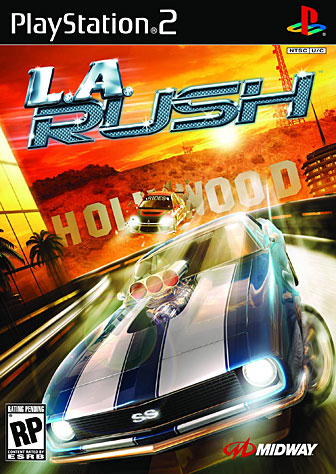 In 2005, Midway Games shipped the over-the-top, arcade-style racing thriller, L.A. RUSH for PlayStation2 and Xbox. A PC version of the game came out in December of that year.
"LA RUSH is the ultimate arcade driving experience delivering gamers an amazing sense of speed, rock-solid controls, big jumps, huge crashes and insane shortcuts," said Steve Allison of Midway. "The game's groundbreaking story mode features more than fifty licensed and concept cars, an intense soundtrack, and celebrity and hip-hop talent starring as in game characters, all the while still encapsulating the heart of the RUSH franchise."
Backed by a multi-million dollar marketing campaign, LA RUSH is the first of three titles to ship under the recently announced strategic relationship between MTV and Midway to jointly market videogames.
L.A. RUSH's Multi-Million Dollar Marketing Campaign includes a national television advertising campaign on multiple mainstream broadcast and cable networks.
The print advertising campaign will run across multiple major video game and consumer publications
In the game, join the crew at West Coast Customs to pimp your ride and live the fabulous lifestyle of an L.A. street racer. Feel the rush as you race over 36 licensed rides including muscle, tuner and exotic vehicles as well as exclusive tricked-out racers designed by West Coast Customs and RIDES Magazine. An exciting and unique story-driven experience will allow you to race through five fully-open Los Angeles city re-creations while finding shortcuts and surviving jumps.