Super Mario Strikers
Classic Nintendo characters compete in aggressive five-on-five soccer matches in this sports video game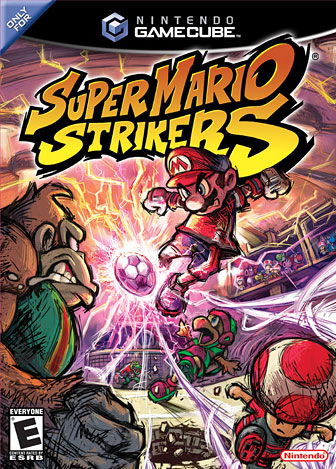 Picture a soccer field were surrounded by an electrified fence, players wielding giant shells, and goals scored with intense sound and light. Super Mario Strikers isn't your usual sports video game.
Up to four players compete in five-on-five soccer matches. Tackling and power shots are all part of the gameplay. If players gets in your way, slam them into the electric fence that marks the out-of-bounds area. However, if you strike a player who does not have the ball, you reward the opposing team with a special power-up item that could be used on you.
"People have described this frenetic game as soccer meets Super Smash Brothers," said George Harrison of Nintendo. "Soccer remains one of the most popular sports in the world, and Super Mario Strikers gives players the tools they always wished they could unleash on their opponents."
Super Mario Strikers features classic Nintendo characters, but with fierce attitudes. Players can challenge friends or work their way up through the rankings to unlock bonus features including new stadiums and cheats. Game release date: December 5, 2005.