Viva Pinata
Engaging cast of colorful 3D animated wild-roaming pinata animals brings a vibrant world to the Xbox 360 and television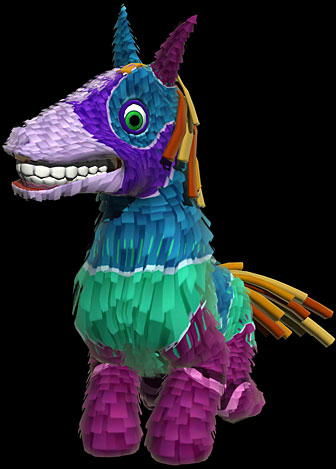 Viva Pinata is a high-energy, mass-appeal entertainment property from Microsoft Game Studios, 4Kids Entertainment, and Rare that brings a vibrant world of living pinata animals to video games, television, and merchandise. The Viva Pinata universe showcases an engaging cast of colorful, wild-roaming pinata animals that entertain and challenge imaginations.
Viva Pinata will offer a number of entertainment elements enjoyable for everyone -- from kids to adults. The Viva Pinata world will include a Saturday morning 3-D animated television series, slated to premiere this fall on 4Kids TV on FOX. An immersive video game developed by Rare for Xbox 360 is scheduled to debut this holiday, enabling gamers to create and customize pinata-filled adventures in their own evolving world.
"With Viva Pinata, we are introducing a revolutionary brand that will entertain, inspire and excite children, families and creative minds around the globe," said Peter Moore of Microsoft's Interactive Entertainment Business. "With Rare and 4Kids Entertainment we will best showcase the vibrant world of Viva Pinata, enabling a mass audience to have an immersive experience via the animated television series, the Xbox 360 title and related merchandise."
The Viva Pinata television series is set to air in the U.S. in fall 2006 on 4Kids Saturday morning TV. In this comedy series, a cast of pinata friends embark on wild adventures on Pinata Island. The appealing characters and their charming personalities are sure to entertain and stimulate the series' audience as they accompany the pinata characters on their zany adventures.
"We are very excited about partnering with Microsoft to share the Viva Pinata universe with the world," said Alfred R. Kahn of 4Kids Entertainment. "The potent combination of the Microsoft Game Studios and 4Kids will ensure that the Viva Pinata world, including the video game, television series and merchandising program, attracts a worldwide audience."
Set to release for Xbox 360 this holiday season worldwide, Viva Pinata is a customizable, social and spontaneous game that invites players of all ages and skills to explore an immersive world where they are challenged to create and maintain a living garden ecosystem that grows in real time. Beginning with a few basic tools, players build and take control of their environment to attract and host more than sixty species of wild pinata, utilizing hundreds of customizable elements to create their very own distinctively unique thriving paradise.
With the Xbox Live service, players will be able to play, trade, and interact with more than two million gamers online.