ViewMaster
Stereoscopic photography limited edition boxed set includes a classic 3D viewer and eight reels to honor its decades of history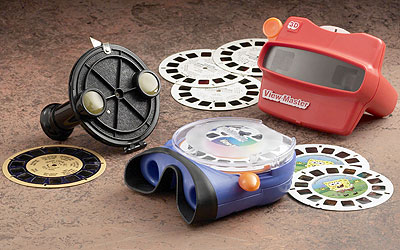 This year, Fisher-Price is celebrating the 65th anniversary of the ViewMaster brand. With just a glimpse through a ViewMaster viewer, people have been able to see 3D images of some of the world's most popular people, places and events, both real and imaginary, past and present. Today, with more than one billion sold, ViewMaster can be found everywhere from music videos and television shows to commercials, restaurant menus and celebrity party invitations.
"ViewMaster has secured itself as a classic toy that continues to fuel the imaginations of children around the world," says Chuck Scothon, senior vice president of marketing, Fisher-Price. "It is truly a phenomenon that has transcended the toy box to achieve pop culture status."
"I've been an avid ViewMaster collector since the age of five," says Mary Ann Sell, president of the National Stereoscopic Association, a non-profit organization dedicated to stereoscopic photography, which is a method used to create 3D images. "Ever since I was a child, ViewMaster has provided a magical window in time, allowing me to explore past events and letting me travel the world. As an adult, I continue to be fascinated by all of the wonderful 3D images I see through my ViewMaster viewer and this milestone anniversary will be acknowledged at the annual National Stereoscopic Association Convention this month."
From Pope John Paul II to Popeye, celebrities real and fictional have been known to play with ViewMaster viewers. It has appeared in various music videos for artists including REM, the Black Crowes and Mary J. Blige, and hip-hop star Jay-Z even went as far as using it as a celebrity party invitation. ViewMaster has also starred on television including an appearance on "That '70s Show" and in General Motors' 2002 ad campaign.
It all began in 1938 when William Gruber, a piano tuner by trade and a stereo photographer by hobby, invented the ViewMaster. Soon after the idea took shape, Gruber created the first ViewMaster viewer and introduced it in Portland, Oregon in 1939. However, it wasn't until the following year at the 1940 New York World's Fair that many Americans had their first ViewMaster viewing experience. No one could have predicted the tremendous public response. Just one year following its debut, ViewMaster was being sold to more than one thousand stores across the country.
Throughout its history, ViewMaster viewers have played a variety of roles. From 1942 to 1945, during World War II, viewers were used in training for the U.S. military. After the war, public demand for ViewMaster viewers and reels skyrocketed. During the 1950s, the company mainly produced reels of various national parks and scenic attractions across the country, intended as souvenirs for adults. In 1951, due to the acquisition of its competitor, the Tru-Vue Company of Rock Island, Illinois, ViewMaster obtained the license to use Disney characters and quickly gained momentum in the children's market. Ever since, ViewMaster reels have featured some of the most popular cartoons, superheroes and fairytales that have become the mainstays of any ViewMaster reel collection.
The design and development of ViewMaster products was handled by several different corporations during the 1970s and 1980s. In April 1997, Tyco Toys, which had purchased ViewMaster brand in 1989, merged with Mattel. As a result of the merger, the ViewMaster line was assigned to Fisher-Price, where this American classic continues to thrive.
To celebrate ViewMaster's 65th anniversary in 2004, Fisher-Price is releasing a limited edition ViewMaster Boxed Set that includes a specially-decorated classic viewer and eight reels, one for each decade of the ViewMaster's existence, featuring scenes from the Apollo Moon Landing and the first American full-length animated movie, Snow White, to Indiana Jones and SpongeBob. Additionally, Fisher-Price will release the ViewMaster Time Capsule Assortment, which allows parents to take their kids back in time with nostalgic ViewMaster viewers and reels featuring favorite cartoon characters of the past.
Fisher-Price is a wholly-owned subsidiary of Mattel.
The National Stereoscopic Association promotes the study, collection, and use of stereographs, stereo cameras and related materials; provides a forum for collectors and students of stereoscopic history; promotes the practice of stereo photography; encouragees the use of stereoscopy in the fields of visual arts and technology; and fosters the appreciation of the stereograph as a visual historical record