Pixel Chix Interactive Game
Virtual LCD two-dimensional electronic doll interacts through controls with three-dimensional playhouse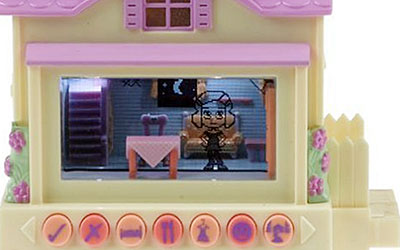 A Pixel Chix pal is housed in a three-dimensional, four-inch plastic home and shares her personality, spunk and interactivity through an innovative application of LCD technology. Girls have a window onto the two-dimensional pixilated Pixel Chix figure and control how she interacts seamlessly with the 3-D furnishings, staircase, and door.
A Pixel Chix pal comes to life in her virtual home when girls engage her in activities like those from their own everyday lives, such as trying on fashions and socializing with friends. During the day, the time-aware Pixel Chix pal will ask "What should we do?" Girls press an activity button - food, fashion, play or go out - to choose a play category, and then select from the options presented to them using the yes or no buttons.
Dress her in a stylish outfit, and a Pixel Chix pal responds by saying fabulous. Choose her favorite food, and she sits at the 3-D kitchen table to eat it. Send her to bed and she climbs up the 3-D stairs to her bedroom, brushes her teeth, turns out the lights and begins lightly snoring. Three different Pixel Chix houses are available: a stylish loft, a cozy country cottage, and a lavish mansion. Up to ten Pixel Chix houses can be connected together, allowing their residents to socialize - they may chat with each other on the phone, engage in a special group dance, or walk out their virtual front doors to visit each other's Pixel Chix houses for a party or movie night.
"Our research indicates that about half of all youth electronics purchases are made by girls, and Pixel Chix is the first youth electronics item that parallels a little girl's everyday life," said Stephanie Cota of Mattel.
"We say she's a 2-D girl living in a 3-D world, because she loves to do the same things a girl does - she talks, eats, sleeps, exercises, hangs out and plays games. And because girls have told us they want items they can play along with their friends, we've built in fun surprise features that occur only when girls connect their Pixel Chix houses together."
A Pixel Chix pal is full of humorous helpings of attitude. Keep her waiting, and a restless Pixel Chicks pal reminds you with tapping feet and a well-timed ahem. Send her to bed during the daytime, and she's likely to say, no way before sulking upstairs to her bedroom. Suggest that she play outside in her nightgown, and a Pixel Chicks pal exclaims, you want me to go outside in this?
The more girls play with their Pixel Chix pal, the more their virtual world will expand as they accumulate more foods, fashions and games, such as playing the guitar or singing karaoke, adopting a dog or a cat, ordering out pizza or fixing hamburgers, and dressing in tutus or bathing suits. On the other hand, if girls forget to tend to their Pixel Chix pal, she will descend through levels of neglect, losing her accumulated treasures as her house becomes covered with cobwebs and, eventually, the Pixel Chix pal packs up and leaves"
The Pixel Chix pal and her accessories appear in her house through a transmissive LCD screen displayed in negative mode. Two high-bright LEDs illuminate the pixels on the display and the 3-D objects in the house. A Pixel Chix pal communicates through embedded speakers.