V2 Tamagotchi Connection Virtual Pets
Handheld virtual pet toy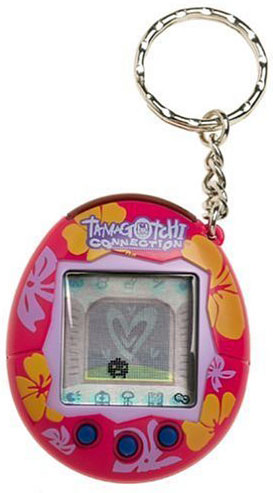 Handheld virtual pet with more characters, new games, and secret codes. Play eight different games to earn Gotchi points to shop for gifts, food, and more. Create list of up to fifty friends. Infrared technology allows information exchange between devices. Plastic egg-shaped case on keychain. Caring for Tamagotchi helps it progress to adulthood. Ignoring it causes it to fly away.
Personalized Care: Tamagotchis required feeding, cleaning, and attention, allowing owners to personalize the care and develop a unique bond with their virtual pet.
Growth and Evolution: Watching the Tamagotchi grow and evolve through different stages provided a sense of accomplishment and kept owners engaged.
Portability: The small, keychain-sized device made it easy to carry the Tamagotchi everywhere, ensuring constant entertainment and companionship.
Interactivity: The simple interface allowed for interactive play, with buttons to control various actions and responses from the virtual pet.
Challenges and Games: Many Tamagotchis included mini-games and challenges that added an extra layer of fun and interaction.
Social Aspect: Trading tips, comparing pets, and connecting devices with friends added a social dimension to the Tamagotchi experience.
Nostalgic Appeal: For many, Tamagotchis hold a nostalgic value, representing a unique and memorable part of childhood.
Educational Value: Caring for a Tamagotchi taught responsibility and time management, as neglecting the pet could lead to its virtual demise.
Collectible Nature: With various designs, editions, and characters, Tamagotchis became collectible items, appealing to enthusiasts and fans.
Emotional Connection: Despite being virtual, many owners developed a genuine emotional connection to their Tamagotchis, making the experience more immersive and rewarding.