Beach Toys Backpack
Imaginarium Roller Backpack with Sand Toys.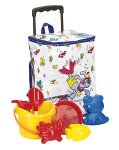 Rolling luggage that also converts into a back-back filled with sand toys.
A backpack filled with sand toys and equipped with wheels is an ingenious solution for families planning a day at the beach. This unique design offers unparalleled convenience and functionality, making the transportation of beach toys from the car in the parking lot to the chosen spot on the beach a breeze.
The backpack's spacious compartments provide ample room to store a variety of sand toys, such as shovels, rakes, buckets, molds, and more. The organized storage ensures that everything is easily accessible and ready for playtime.
What sets this backpack apart is its sturdy wheels, specifically designed to roll smoothly on sand. This feature eliminates the need to carry heavy bags filled with toys, reducing strain on the arms and shoulders. Parents can effortlessly pull the backpack along the sandy terrain, making the journey from the car to the beach more enjoyable and less tiring.
The backpack's durable material is typically resistant to sand and water, ensuring that the toys remain clean and dry. Additional pockets and compartments can hold essentials like sunscreen, snacks, and towels, consolidating everything needed for a fun day at the beach into one convenient package.
Overall, the wheeled backpack filled with sand toys is a practical and innovative solution for beach-going families. It simplifies the process of transporting toys and other beach essentials, allowing families to focus on what truly matters: enjoying quality time together by the sea.